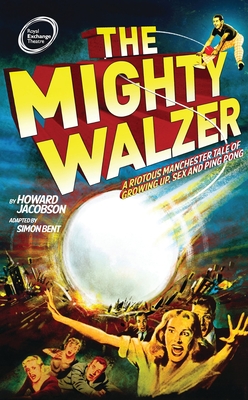 The Mighty Walzer (Paperback)
Oberon Books, 9781783198344, 96pp.
Publication Date: April 18, 2017
Other Editions of This Title:
Paperback (4/5/2011)
* Individual store prices may vary.
Description
Oliver Walzer is shy, bookish, Jewish. He doesn't know how to talk to girls. But he can slice and spin a ping pong ball better than any teenager in Manchester. Oliver channels his frustrated adolescent lust into the game...that is, until the heartbreaking Lorna Peachley and the prospect of a place at Cambridge take his eye off the ball.
About the Author
Howard Jacobson is a British novelist and journalist. He is known for writing comic novels that often revolve around the dilemmas of British Jewish characters. He is a Man Booker Prize winner. Simon Bent is a British screenwriter and playwright, whose work includes the Joe Orton biographical play Prick Up Your Ears, the theatre adaptation of A Prayer for Owen Meany (2002) and Elling (2007).
Praise For The Mighty Walzer…
'The Mighty Walzer: a very funny, messily authentic portrait of adolescence... Bent's adaptation captures much of the rich Yiddish vernacular and zippy, self-deprecating gallows humour in Jacobson's novel.' The Telegraph ★★★★

'there's a full-flavoured wit and luminous humanity in the writing' The Times ★★★★

'I'm glad that writer Howard Jacobson lent us his story of The Mighty Walzer and even happier that this adaptation by Simon Bent has turned a funny novel into an even funnier play.' What's On Stage ★★★★

'Jacobson's ping-pong comedy is a smash on stage... Loose-limbed, semi-autobiographical novels do not necessarily transfer easily to the stage, but Simon Bent's adaptation is the happy occurrence of a fine novelist and an equally experienced playwright putting their heads together.' The Guardian ★★★★