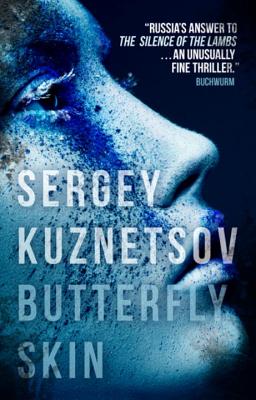 Butterfly Skin (Paperback)
Titan Books, 9781783290246, 400pp.
Publication Date: September 23, 2014
* Individual store prices may vary.
Description
When a brutal and sadistic serial killer begins stalking the streets of Moscow, Xenia, an ambitious young newspaper editor, takes it upon herself to attempt to solve the mystery of the killer's identity. As her obsession with the killer grows, Xenia devises an elaborate website with the intention of ensnaring the murderer, only to discover something disturbing about herself: her own unhealthy fascination with the sexual savagery of the murders.
About the Author
Sergey Kuznetsov was born in Moscow in 1966. In the late '90s he became a leading Russian film and pop-culture critic, and achieved prominence as one of the pioneers of the Internet in Russia. He has actively contributed to magazines such as Harper's Bazaar, Playboy, Vogue, and L'Officiel. In 2001 he became the first Russian journalist to be awarded the Knight Fellowship in Stanford University.

Kuznetsov is the author of The Nineties: A Fairy Tale, a detective trilogy, and PG21, a futuristic novel (together with Linor Goralik). His novel Round Dance of the Water was short-listed for Big Book, leading Russian literary award. His young-adult fiction "Live and Adult" was awarded as Best Horror of 2011 by World of SciFi Russian Magazine. His novel Butterfly Skin  has acquired cult status in Russia and has been translated into five languages including German (Heyne). His story "Moscow Reincarnations" was included in the anthology Moscow Noir (Akashic Books, 2010). He lives in Paris with his wife and two children. 

Andrew Bromfield is a British editor and translator of Russian works. He is a founding editor of the Russian literature journal Glas, and has translated into English works by Boris Akunin, Vladimir Voinovich, Irina Denezhkina, Victor Pelevin, and Sergei Lukyanenko, among other writers.
Praise For Butterfly Skin…
"Does a great job of exploring the mind of the murderer" - Horror Talk 

"A love story from hell" - The New York Times 

"In Butterfly Skin, readers are not only treated to in-depth explorations through the psychologies of a diverse array of characters (all of whom come off as sickos or weirdos in their own right), but also a very Russian history lesson concerning its homegrown bad men." - Ravenous Monster

"This book is much, much deeper than just a story about a serial killer and a masochist who follows him." - Popcults

"If Stieg Larsson and Thomas Harris met each other on ICQ, courted each other, then met in person and had a lovechild and posted its picture on a creepy subreddit, it'd look something like this book". - Litreactor

"Kuznetsov's killer feels real and vulnerable in a way that does feel fresh." - Criminal Element

"Through his riveting plot and singular characters, Sergey Kuznetsov explores the sometimes pathological fallout resulting from our instant connectivity in the emerging world of emails, facebook, twitter, and other forms of electronic "intimacy." - Bloody Disgusting 

"Superb character development and a strong central plot that will keep you enthralled." - City of Films

"386 pages of pure terror." -  Bio Gamer Girl After Dark 

"Fans of serial killer thrillers and of Russian novels in translation will find a lot to love, if they have a strong stomach." - Library Journal

"Readers who prize atmosphere and characterization over breakneck pacing will enjoy Kuznetsov's dark, quintessentially Russian tale. It's richly detailed, steeped in foreshadowing of inevitable tragedy, and offers a poetically twisted take on death. In addition, fans of The Girl with the Dragon Tattoo (2008) will appreciate Ksenia's character, which is reminiscent of that of Lisbeth Salander." - Booklist

"The book is sure to gain momentum globally and evolve from a cult phenomenon to a classic piece of literature" - Examiner.com 

"The fainthearted had best stay away." - Publishers Weekly