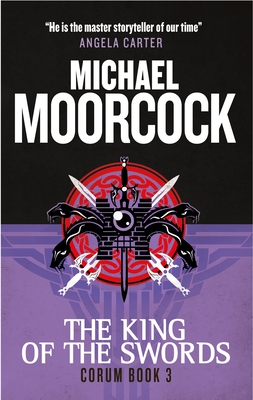 Corum - The King of Swords (Paperback)
The Eternal Champion
Titan Books, 9781783291694, 240pp.
Publication Date: July 7, 2015
* Individual store prices may vary.
Description
The old races have perished. Across the fifteen planes of reality, the ceaseless struggle between Law and Chaos continues. Corum, the Prince in the Scarlet Robe, has destroyed two of the company of Chaos, but Mabelode the Faceless will not see his actions go unpunished.

The Eternal Champion must call upon the power of other incarnations—Elric, and Erekosë—and travel to the last five planes to defeat the King of the Swords. At stake: not only the balance of forces at the crux of existence, but also a personal vendetta, since the captain of the enemy army is the same Mabden who slaughtered Corum's family...
About the Author
Born in London in 1939, Michael Moorcock now lives in Texas. A prolific and award-winning writer with more than eighty works of fiction and non-fiction to his name, he is the creator of Elric, Jerry Cornelius and Colonel Pyat, amongst many other memorable characters. In 2008, The Times  named Moorcock in their list of "The 50 greatest British writers since 1945".