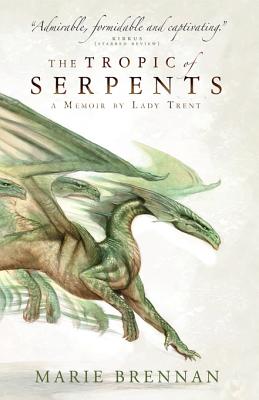 The Tropic of Serpents
A Memoir by Lady Trent
Other

* Individual store prices may vary.
Description
oDuring these years I found myself accused of fornication, high treason, and status as the worst mother in all of Scirland...OCO Attentive readers are already familiar with how a bookish young woman named Isabella first set out on the historic course that would lead her to becoming the worldOCOs premier dragon naturalist. Three years after her journey through Vystrana, the illustrious (and occasionally scandalous) Lady Trent defies convention to embark on an expedition to the war-torn continent of Eriga, home of the legendary swamp-wyrm. Accompanied by an old associate and a runaway heiress, Isabella must brave oppressive heat, palace intrigues, gossip, and other hazards in order to satisfy her fascination with all things draconian, even if it means venturing deep into the forbidden jungle known as the Green Hell... where her courage, resourcefulness, and scientific curiosity will be tested as never before. o U]ncompromisingly honest and forthright... with a heroine at once admirable, formidable and captivating. Reader, lose no time in making IsabellaOCOs acquaintance.OCO Kirkus (starred review) oMarie Brennan brings dragons into the Victorian world, and flawlessly so... It] gives fantasy readers another good reason to enter BrennanOCOs fantastical world.OCO Washington Post oEvery bit as exciting and engrossing as the first part of Lady TrentOCOs memoir. IsabellaOCOs strength and bravery in the name of scientific advancement... is beyond admirableusheOCOs a model protagonist.OCO RT book reviews oLady Trent makes for an intrepid and pleasingly independent protagonist, mastering challenges both emotional and physical.OCO Publishers Weekly.
Not Avail, 9781783292424, 377pp.
Publication Date: September 10, 2014