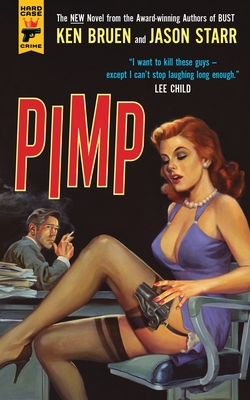 Pimp (Max and Angela) (Paperback)
Hard Case Crime, 9781783295692, 240pp.
Publication Date: March 15, 2016
Other Editions of This Title:
Compact Disc (3/15/2016)
Compact Disc (3/15/2016)
MP3 CD (3/15/2016)
* Individual store prices may vary.
Description
DEALING… PRODUCING…
    ALL IN A DAY'S WORK FOR A DRUGLORD.
        OR IN HOLLYWOOD.


Ruined and on the lam, former drug kingpin Max Fisher stumbles upon the 
biggest discovery of his crooked life: a designer drug called PIMP that could put him back on top. Meanwhile, a certain femme fatale from his past is pursuing a comeback dream of her own, setting herself up in Hollywood as producer of a series based on her and Max's life story. But even in La-La Land, happy endings are hard to come by, especially with both the cops and your enemies in the drug trade coming after you…
About the Author
Ken Bruen was nominated for nearly every major award in the mystery field (and won the Shamus Award) for his book The Guards, the first in his series about Jack Taylor and his first book to be published in the United States.  In addition to his work as a novelist, Bruen has a Ph.D. in metaphysics and spent 25 years as a teacher in Africa, Japan, Southeast Asia, and South America.

The author of the first original novel ever published in the prestigious Vintage/Black Lizard line (Hard Feelings), Jason Starr has won raves for his work from publications ranging from The New York Times to Entertainment Weekly, which compared him to Jim Thompson and James M. Cain. In 2004, he received the Barry Award for his novel Tough Luck, and in 2005 he won the Anthony Award for Twisted City. He also writes comics for Marvel and DC, as well as original graphic novels. He lives in New York City.
Praise For Pimp (Max and Angela)…
"To add to the already outlandish black comedy, the authors make liberal use of a wide variety of celebrity's names to further illustrate the absurd situations portrayed, as well as double- (and) triple-crosses, blunders, miscalculations, violence, sex and blackmail. All in good fun." - Midwest Book Review

"Fast-paced, engrossingly entertaining, Pimp is outrageously funny." -  New York Journal of Books

"In Bruen and Starr's scattershot fourth Max Fisher noir (after 2008's The Max), a new designer drug called PIMP (an acronym for peyote, insulin,mescaline, and psychosis) is poised to give the ne'er-do-well New York City "businessman" (i.e., drug dealer) another shot at the big time. Since the first book in the series, 2006's Bust, in which Max and his secretary, Angela Petrakos, plotted to kill his wife, Max has fallen on hard times, appearing after his plastic surgery "like Philip Seymour Hoffman after the autopsy." Meanwhile, Angela has stumbled as well, making a living in porn. But she's caught a break, too. In a metafictional twist, a movie of Bust is in heated development, and she's determined to produce and star. The usual torrent of pop culture references (and relentless self-references) heap satire on filmmaking and crime writing as Bruen and Starr take a comic look back at their initial collaboration. Longtime fans may enjoy the 10th-anniversary antics, but new readers might want to start with Bust and work their way up." - Publishers Weekly

"I want to kill these guys—except I can't stop laughing long enough."
—Lee Child
 
"Downright hilarious and bloodthirsty in the best possible way.
With all the dirt and more you could ask about Hollywood
and the world of crime publishing."
—Maxim Jakubowski
 
"Perfect for those who like to laugh while the blood flows."
—Booklist

"You won't put this delightfully twisted novel down until the last hot page, and then reluctantly." - Marvin Minkler First Editions

"PIMP is a wild ride of sheer fun and entertainment. Fans of both Bruen and Starr will love this book.... Hard Case Crime once again proves why they are the greatest hard-boiled and noir publishing house in the world." - BookReporter 

"This hilarious series and its hapless, deluded main characters is like no other in the entire contemporary crime fiction world." - Bookgasm