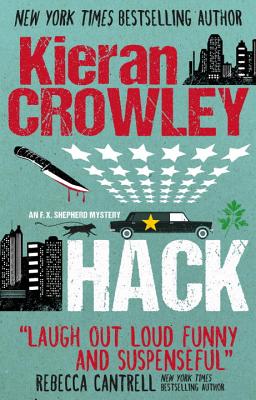 Hack (Paperback)
A F.X. Shepherd novel
Titan Books, 9781783296491, 320pp.
Publication Date: October 13, 2015
Other Editions of This Title:
Paperback (9/24/2013)
* Individual store prices may vary.
Description
Journalism. 
Narcissism.
Cannibalism.
It's a dog-eat-dog world at the infamous tabloid the New York Mail, where brand new pet columnist F.X. Shepherd accidentally finds himself on the trail of The Hacker, a serial killer targeting unpleasant celebrities in inventive—and sometimes decorative—ways. And it's only his second day on the job. Luckily Shepherd has hidden talents, not to mention a hidden agenda. But as bodies and suspects accumulate, he finds himself running afoul of cutthroat office politics, the NYPD, and Ginny Mac, an attractive but ruthless reporter for a competing newspaper. And when Shepherd himself is contacted by The Hacker, he realizes he may be next on the killer's list...
About the Author
Kieran Crowley is a New York Times bestselling author and investigative reporter. He has written several non-fiction books, including Sleep My Little Dead: The True Story of the Zodiac Killer and Burned Alive. As a New York Post reporter, he covered hundreds of trials and murders, including the assassination of John Lennon and the case of David "Son of Sam" Berkowitz.
Praise For Hack: A F.X. Shepherd novel…
"Crowley's splendid and rather satirical crime novel speaks with a uniquely engaging voice, ratcheting up suspense and laughs simultaneously and even tossing in some sexy shenanigans. HACK is a must read for crime and mystery fans." - The Blood Shed

"Leveson has been and gone with nothing to show for it, the press are freeing the beast on the new leader of the Labour party, and Rebekah Brooks is making a comeback. Thank god for Kieran Crowley and Hack, a light-hearted crime romp that pokes fun at the iniquity of the press." - Nudge Book 

"It's all action and all engaging. Funny, witty and endlessly thrilling, Hack is a seriously accomplished contemporary crime novel you won't want to put down." - Bookshelf Butterfly

"HACK is as dark and gritty as it is funny. It takes a fine crime author to pull that off, and apparently Kieran Crowley is just such an author." ..."Crowley's splendid and rather satirical crime novel speaks with a uniquely engaging voice, ratcheting up suspense and laughs simultaneously and even tossing in some sexy shenanigans. HACK is a must read for crime and mystery fans, as well as those fascinated with tabloid journalism" - Noir Journal

 "Hack is a thriller that reads exactly as you'd want a good murder mystery to unfold – there are unexpected twists, false leads and multiple suspects, not to mention a lead character with an abundance of dry wit and a hidden agenda all of his own....Hack is a gripping read and a cleverly plotted mystery that takes our reluctant hero through Hell and back....It's a funny, ridiculous look at the cut-throat world of journalism and a purely escapist novel that's a perfect commute read."
- Culture Fly