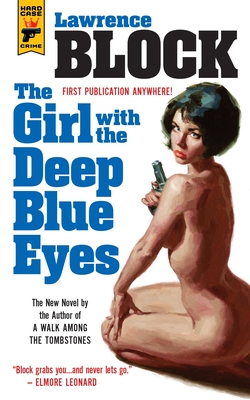 The Girl With the Deep Blue Eyes (Hardcover)
Hard Case Crime, 9781783297504, 240pp.
Publication Date: September 22, 2015
* Individual store prices may vary.
Description
Cashed out from the NYPD after 24 years, Doak Miller operates as a private eye in steamy small-town Florida, doing jobs for the local police. Like posing as a hit man and wearing a wire to incriminate a local wife who's looking to get rid of her husband. But when he sees the wife, when he looks into her deep blue eyes…

He falls – and falls hard. Soon he's working with her, against his employer, plotting a devious plan that could get her free from her husband and put millions in her bank account. But can they do it without landing in jail? And once he's kindled his taste for killing...will he be able to stop at one? 
About the Author
LAWRENCE BLOCK is one of the most acclaimed and highly decorated living mystery writers, having received multiple Edgar, Shamus Awards and Maltese Falcon Awards, as well as lifetime achievement awards in the U.S., UK, and France (including being named a "Grand Master" by the Mystery Writers of America, the organization's highest honor).
Praise For The Girl With the Deep Blue Eyes…
"Lawrence Block is arguably the best crime writer living today, and he has just proven it again." - Criminal Element

"This original novel from the invaluable Hard Case Crime is the hard-boiled noir that James M. Cain could never write. And Block makes it read effortlessly and fun. As a matter of fact, you will want to read it twice." - Book Reporter 

"The Girl with the Deep Blue Eyes is well worth the read and certainly a great addition to anyone's bookshelves." - New York Journal

"This is a master crime writer doing a sharp and clever take on noir tropes, and it's a great read for fans of the genre." - Kemper's Book Blog

"Block is at the top of his game here." - Zoom Street 

"...tweaks the conventional Gold Medal noir pulp situation into something really meta and sophisticated. The conclusion of The Girl With the Deep Blue Eyes is singularly impressive." - Do The Math

"THE GIRL WITH THE DEEP BLUE EYES is a little book that just might be Lawrence Block's masterpiece." - Book Reporter

"The Girl with the Deep Blue Eyes admirably plays off the old black and white film noir without losing its own identity and interest. Its plotting is disturbingly good." - Gravetapping

"THE GIRL WITH THE DEEP BLUE EYES is going make things interesting this fall." - Dead End Follies 

"Sex, murder, and moral ambiguity combine for a deliciously naughty read." - Booklist

"A mighty good read that does not disappoint and is highly recommended." - kevintipplescorner.blogspot.co.uk

"The Girl with the Deep Blue Eyes is a worthy addition to the Hard Case Crime Series and everything I've come to know and love about Lawrence Block's Hard Case novels." - shelfinflicted.com

"The Girl with the Deep Blue Eyes" is a story that is steamy, violent and not the kind of reading your Sunday school teacher would recommend." - The Oklahoman

"Simply remarkable." - Barry N. Malzberg

"Block presents his main character with no filter on the lens. The guy is damaged goods, but it's not until your knee deep in the story do you realize just how damaged." - Wag The Fox