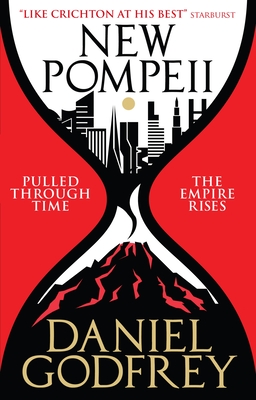 New Pompeii
Paperback

* Individual store prices may vary.
Other Editions of This Title:
Mass Market (10/31/2017)
Description
In the race to control renewable power, an energy giant stumbles on a controversial technology: the ability to transport matter from the deep past. Their biggest secret is New Pompeii, a replica city filled with Romans, pulled through time just before the volcanic eruption.

Nick Houghton doesn't know why he's been chosen to be the company's historical advisor. He's just excited to be there. Until he starts to wonder what happened to his predecessor. Until he realizes that the company has more secrets than even the conspiracy theorists suspect. 

Until he realizes that they have underestimated their captives…
Praise For New Pompeii…
"Deliciously Readable" - Barnes & Noble 

"A story so irresistibly entertaining, it should be accompanied by a bottomless bucket of popcorn" -  Barnes & Noble Sci Fi blog

"A perfect replica of Pompeii has been built in a formerly Soviet central Asian republic.  But this isn't some grand-scale historical re-enactment venue.  The town has been populated with the residents of the real Pompeii who have been snatched from their homes just before Vesuvius erupted and dragged forward in time using cutting-edge technology.  The corporation responsible intends to exploit their creation for all it's worth, but things, of course, do not go to plan.  The Pompeiians are smarter and less biddable than anticipated and have no wish to be exhibits or reality-TV fodder.
 

"Fascinating, cleverly wrought, intelligent and occasionally brutal, New Pompeii is a thrillingly original take on the time travel genre." – Tim Lebbon, New York Times bestseller
 
"An exuberant, high-concept thriller that brings ancient Rome crashing into the present day. Smart, inventive and action-packed." – Tom Harper, bestselling author of The Lost Temple
 
"That rare science fiction novel that reads like a thriller – fast-paced and intricate. Godfrey has crafted an astonishing debut, and I can't wait to see where his story goes next." – Alan Smale, Sidewise Award winner
 
"An impressive debut. A smart, intriguing thriller in the tradition of Michael Crichton and Philip K. Dick." – Gareth L. Powell, BSFA Award winner
 
"A first class debut. I couldn't put it down!" – Adam Christopher, author of Empire State
 
"A cleverly woven tale of ancient Romans, time travel, and ageless power struggles, which builds to a stirring conclusion." – Janet Edwards, author of Earth Flight

 "I was completely engulfed within this book, unable to put it down for days straight. New Pompeii has all of the elements that every Sci-Fi fan would want" - Gamers Sphere

"You better pick-up this book" - Retrenders

"Sci-fi entertainment at its best and most fluent" -  Rising Shadow

"New Pompeii is part sci-fi, part historical thriller.  I've yet to read a novel that balances both genres so well." - Geekmundo

"New Pompeii is a fast-paced, intense thriller, reminding me most of Tom Clancy's page-turners, where the technology matters, but not nearly as much as what people choose to do with it." - Fangirl Nation

"Much like Crichton, Godfrey seems most at home delving into the nerdy details of his thought experiment, bringing to life the world of the Pompeiians with a convincing degree of historical accuracy" - Shelf Awareness

"A treat for fans of well-thought out science fiction. There are twists and turns that are dizzying but it's an enjoyable ride." - Impedimenta Magazine 

"As a graduate with one of my degrees focused in Ancient Roman History, I was pleased the look at Pompeii and Roman society was well-researched, with enough historical facts to make the characters and setting believable without bogging down the narrative." - Borg.com
Titan Books, 9781783298112, 352pp.
Publication Date: June 21, 2016
About the Author
Daniel Godfrey has had several short stories published, including in My Weekly and Writers' Forum, and is a dedicated reader of SF and historical fiction. He studied geography at Emmanuel College, Cambridge, and gained an MSc from Leeds in transport planning. He lives in Derbyshire.
or
Not Currently Available for Direct Purchase