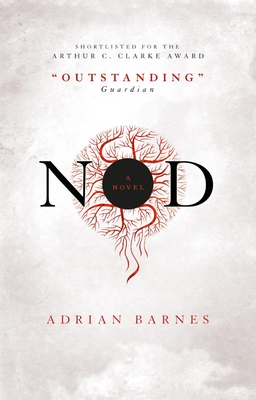 Nod (Paperback)
Titan Books, 9781783298228, 256pp.
Publication Date: September 1, 2015
Other Editions of This Title:
Mass Market (7/25/2017)
MP3 CD (6/14/2016)
* Individual store prices may vary.
Description
Dawn breaks over Vancouver and no one in the world has slept the night before, or almost no one. A few people, perhaps one in ten thousand, can still sleep, and they've all shared the same golden dream. 

After six days of absolute sleep deprivation, psychosis will set in. After four weeks, the body will die. In the interim, panic ensues and a bizarre new world arises in which those previously on the fringes of society take the lead. 

Paul, a writer, continues to sleep while his partner Tanya disintegrates before his eyes, and the new world swallows the old one whole.
About the Author
Adrian Barnes was born in Blackpool, England but moved to Canada in 1969. He teaches English at Selkirk College, British Columbia. He is married with two children. He received an MA in Creative Writing from Manchester Metropolitan University and Nod is his first published novel.
Praise For Nod…
"Violent, frightening, textured, and dystopian are words that aptly describe the short-lived world that Barnes has created. Barnes' writing is beautiful" - Quest For Sleep

"Barnes's prose is full of surprising figures and flourishes" - Kenyon

"I loved the premise and enjoyed both the story and Barnes's rich prose." - Craig DiLouie 

"Thought provoking and utterly engrossing, NOD is a science fiction tale of horror unlike any I have read before." - Count Gore

"The creepiest book of the year" - Slate

"I could see what the new world of Nod looked like, could easily picture the slow collapse of Vancouver and its people thanks to Barnes' close attention to detail. At times I could even smell the death and decay it so vividly described." - Project Fandom

"Debut author Barnes has written a completely original twist on the subject of insomnia. His apocalyptic thriller will appeal to fans of Christopher Galt's Biblical and other dystopian and sf thrillers as well as readers with an interest in mythology" - Library Journal

"I have never read anything quite like this book. It's the perfect blend of heady existentialism and dystopian nightmare. The grand scope of the many ideas and themes, including anti-establishment, anti-consumerism, and the very nature of good and evil, is balanced out by fast-paced events that play on a micro-level...Nod is horror born of the unflinching and uncompromising detail that dissects what it means to be human." - Dread Central

"Nod brings a refreshing perspective to the horror/zombie genre." - Pop Kernal

"Graphically violent, but gleaming with gems of sardonic prose and clever phrases, this is a book I would read again just for the writing." - St. Louis Post-Dispatch
or
Not Currently Available for Direct Purchase