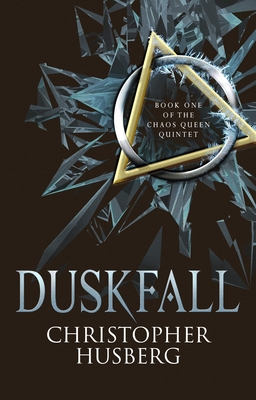 Chaos Queen - Duskfall
Chaos Queen 1
Paperback

* Individual store prices may vary.
Description
Shortlisted for the Morningstar Award for Best Fantasy Newcomer at the Gemmell Awards 2017

Pulled from a frozen sea, pierced by arrows and close to death, Knot has no memory of who he was. But his dreams are dark, filled with violence and unknown faces. Winter, a tiellan woman whose people have long been oppressed by humans, is married to and abandoned by Knot on the same day. In her search for him, she will discover her control of magic, but risk losing herself utterly. And Cinzia, priestess and true believer, returns home to discover her family at the heart of a heretical rebellion. A rebellion that only the Inquisition can crush…


Their fates and those of others will intertwine, in a land where magic and daemons are believed dead, but dark forces still vie for power.
Praise For Chaos Queen - Duskfall: Chaos Queen 1…
"The first book in the Chaos Queen Quintet starts with a bang and introduces Husberg's world to the reader in an interesting, plot-driven manner. " - Booklist

"This is a solid setup for a great new fantasy epic, perfect for fans of Daniel Abraham and Brandon Sanderson." -- Library Journal

"Duskfall is the Borne Identity for the fantasy crowd!...It is sure to quench the thirst of any reader who is looking for dark forces who vie for power and those who wish to fight against them!" Night Owl Reviews

"a must for any fantasy lover and is the one you have been waiting for." - SFReader

"The most engaging and satisfying fantasy book I have read in a very long time" - Impedimenta Magazine 

"This novel is a perfect read for fans of Anne Rice, or  J. R. R. Tolkien." -  Bookaholic Banter

 "Easy to become engrossed in" - Adventures In Poor Taste

"This novel reminded me a bit of Gail Z. Martin, Michael J. Sullivan, Courtney Schafer and Marc J. Turner. Just like these authors, Christopher Husberg has the ability to entertain his readers and move the story fluently forward." - Rising Shadow
Titan Books, 9781783299157, 400pp.
Publication Date: June 21, 2016
About the Author
Christopher B. Husberg was born in Alaska and studied at Brigham Young University, where he went on to teach creative writing. His short story collection Look Me in the Stars received an honourable mention in the 2013 Utah Original Writing Competition. He lives with his wife in Lehi, Utah.
or
Not Currently Available for Direct Purchase