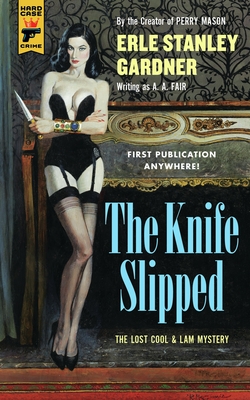 The Knife Slipped (Cool and Lam)
Paperback

* Individual store prices may vary.
Description
NEVER BEFORE PUBLISHED!
THE LOST DETECTIVE NOVEL BY THE CREATOR OF PERRY MASON!

HBO series Perry Mason airs June 2020 starring Matthew Rhys in the titular role.

Lost for more than 75 years, The Knife Slipped was meant to be the second book in the series, but shelved when Gardner's publisher objected to (among other things) Bertha Cool's tendency to "talk tough, swear, smoke cigarettes, and try to gyp people." But this tale of adultery and corruption, of double-crosses and triple identities—however shocking for 1939—shines today as a glorious present from the past, a return to the heyday of private eyes and shady dames, of powerful criminals, crooked cops, blazing dialogue, and delicious plot twists. 

Donald Lam has never been cooler—not even when played by Frank Sinatra on the U.S. Steel Hour of Mystery in 1946. Bertha Cool has never been tougher. And Erle Stanley Gardner has never been better.
Praise For The Knife Slipped (Cool and Lam)…
"For fans of classic hard-boiled whodunits, this is a time machine back to an exuberant era of snappy patter, stakeouts, and double-crosses." -- Publishers Weekly

"A remarkable discovery...fans will rejoice at another dose of Gardner's unexcelled mastery of pace and an unexpected new taste of his duo's cyanide chemistry." -- Kirkus Reviews

"The Knife Slipped is a gift to aficionados of the Cool and Lam series . . ." - New York Journal of Books

"A treasure that's not to be missed." - BookReporter

"Fans of Gardner's straightforward and terse Perry Mason mysteries are in for a surprise and treat with the abundance of breezy and sarcastic humor found in The Knife Slipped. Like his Mason novels, The Knife Slipped is both fast moving and intricately plotted, but Lam's first-person narration allows much more freedom for Chandleresque descriptions and smart remarks." - Shelf Awareness

 "This vintage hardboiled mystery has plenty of sass and energy, with intricate plotting and a delightful parade of suspects. The Knife Slipped is a treat that no mystery fan will want to miss" - Shelf Awareness
Hard Case Crime, 9781783299270, 240pp.
Publication Date: December 6, 2016
About the Author
One of the best-selling authors of all time, Erle Stanley Gardner's greatest creations include crusading attorney Perry Mason (star of more than eighty novels, a long-running TV series and TV movies) and the hardboiled detective team of Bertha Cool and Donald Lam, who appeared in more than two dozen adventures of their own. An attorney himself, Gardner also founded the Court of Last Resort, a group that investigated criminal cases they believed had ended in wrong convictions.