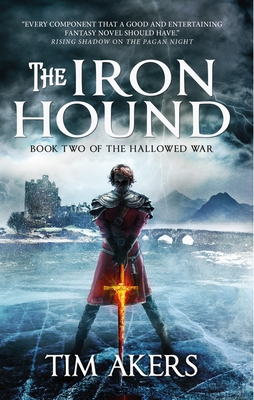 The Iron Hound (Paperback)
The Hallowed War 2
Titan Books, 9781783299508, 400pp.
Publication Date: August 22, 2017
* Individual store prices may vary.
Description
MAD GODS WALK THE LAND
Tensions flare between north and south, and hatreds erupt into war. Yet the conflicts of men are quickly overshadowed by a far greater threat. Creatures long kept confined rise from below, spreading destruction on an unimaginable scale. 
The flames of war are fanned by the Celestial Church, whose inquisitors and holy knights seek to destroy the pagans wherever they are found. A secret cabal creates unexpected allies, and pursues its own dark agenda…

While Malcolm Blakley seeks to end the war before all of Tenumbra is consumed, his son Ian searches for the huntress Gwendolyn Adair, and finds himself shadowed by the totem of his family, the Iron Hound. Gwen herself becomes allied with the pagans, and wrestles with the effect of having been bound to a god.
About the Author
Tim Akers was born in deeply rural North Carolina, the only son of a theologian. He is the author of the Burn Cycle from Solaris Books, as well as The Horns of Ruin, featuring Eva Forge, published by Pyr Books. This is his inaugural entry into epic fantasy.
Praise For The Iron Hound: The Hallowed War 2…
"inventive, suitably epic series" - Barnes & Noble SFF blog

"Readers looking for a fantasy trilogy that keeps you guessing and takes you along for a fun ride will enjoy this series." - Mythprint (MythSoc journal)