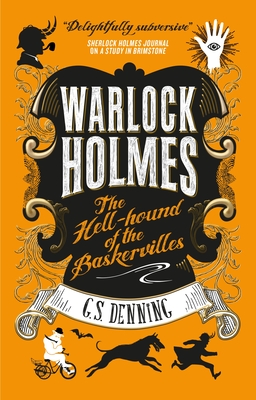 Warlock Holmes
The Hell-Hound of the Baskervilles: Warlock Holmes 2
Paperback

* Individual store prices may vary.
Description
The game's afoot once more as the long-suffering Dr. John Watson and a partially-decomposed Warlock Holmes (though he's getting better) face off against Moriarty's gang, the Pinkertons, flesh-eating horses, a parliament of imps, boredom, Surrey, a succubus, an overly-Canadian aristocrat, a tricycle-fight to the death and the dreaded Pumpcrow. Oh, and a hell-hound, one assumes.
Praise For Warlock Holmes: The Hell-Hound of the Baskervilles: Warlock Holmes 2…
"charming, amusing, and all around wonderful...If you're a fan of the mashup culture that's overtaking literature these days, are a fan of Sherlock Holmes, or simply want a wonderful, fun read, I cannot recommend Denning's latest novel enough."  - Hey Poor Player

 "Any fan of Sherlock Holmes, Elementary, BBC Sherlock, and paranormal stories would benefit from reading these novels and seeing the take on Holmes through the eyes of G.S. Denning."  Gamers Sphere

"a fun series" Hype Podcast

"where else can you find demons battling on tricycles while wearing fake mustaches, yet still be on the edge of your seat wanting to know just how this story is going to end?"  From Girlie to Nerdy 

"I highly recommend Denning's fresh new twists to the classic cases of Sherlock Holmes to anyone who loves stories filled with magic, mystery, murder and hilarious hijinks. Warlock and John capture the readers' lust for adventure within these magical cases and provide a ton of laughs within every story." Geek Hard


"Packed with hilarious characters, paranormal events, and callbacks to the original Sherlock Holmes stories, this book is a great choice if you're into paranormal retellings of the classics" - newberyandbeyond.com

"reminds me of Terry Pratchett" RisingShadow.net

I'm completely addicted to this series, and here's hoping I won't have too long to wait until my next Warlock Holmes fix"  BiblioSanctum.com
Titan Books, 9781783299737, 320pp.
Publication Date: May 16, 2017
About the Author
G.S. Denning was born in Seattle, Washington. He has published articles for games company Wizards of the Coast, worked as an editor, written a video-game script for Nintendo, and written and performed shows at the Epcot Center, Walt Disney World. With a background in improv, Gabe has performed with Ryan Stiles and Wayne Brady, and he currently has a play running in Seattle. He now lives in Las Vegas with his wife and two children.