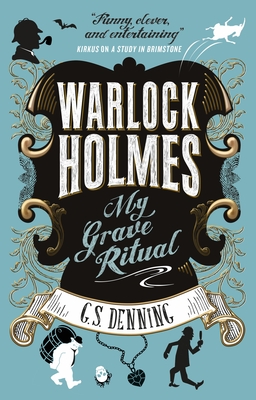 Warlock Holmes - My Grave Ritual (Paperback)
Titan Books, 9781783299751, 432pp.
Publication Date: May 15, 2018
* Individual store prices may vary.
Description
"If you ever wondered how much better Sherlock would be if people could hurl hellfire at each other, well this one is for you." Starburst Magazine on A Study in Brimstone

As they blunder towards doom, Warlock Holmes and Dr. John Watson find themselves inconvenienced by a variety of eldritch beings. Christmas brings a goose that doesn't let being cooked slow it down; they meet an electricity demon, discover why being a redhead is even tricker than one might imagine, and Holmes attempts an Irish accent. And, naturally, Moriarty is hanging around... in some form or other.
About the Author
G.S. Denning was born in Seattle, Washington. He has published articles for games company Wizards of the Coast, worked as an editor, written a video-game script for Nintendo, and written and performed shows at the Epcot Center, Walt Disney World. With a background in improv, Gabe has performed with Ryan Stiles and Wayne Brady, and he currently has a play running in Seattle. He now lives in Las Vegas with his wife and two children.
Praise For Warlock Holmes - My Grave Ritual…
"Denning blends laughs and chills in his entertaining third warped take on Arthur Conan Doyle's oeuvre (after 2017's The Hell-Hound of the Baskervilles), in which Sherlock Holmes is a sorcerer and Watson is his more astute companion. Sherlockians will be especially appreciative of some of the jokes that riff on the canon." - Publishers Weekly


"delightfully quirky and fun" Baker Street Babes 

 "hilarious and clever"  Criminal Element 


"Warlock Holmes has become my go-to for some light and fluffy fun because I know these characters will never let me down when I want a good laugh. I really hope this trend will continue for the next installment and beyond, because I just can't wait to read more."  Bibliosanctum.com

"Riotous from cover to cover, My Grave Ritual takes black fantasy-comedy to new heights (or sundry depths?) and is a "must-read" for connoisseurs of wild fantastic." - Midwest Book Review


"laughter, hilarious situations and mind-boggling cases, wonderful characters you love more than you should, considering they're fictional and a wonderfully fresh twist on a classic story." Erlebnisse

"I am looking forward to seeing where he goes next, since it is very clear that he has a lot of exciting, intelligent plot in store for us, if these first three books have been anything to go by." 
The Frumious Consortium


"endearingly funny and entertaining" From Girlie to Nerdy


"The balance of mystery with supernatural is superb and quite a combination." Geekisphere