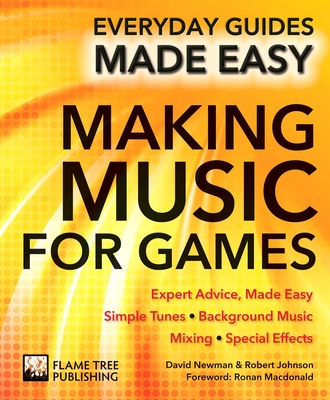 Making Music for Games
Expert Advice, Made Easy (Everyday Guides Made Easy)
Paperback

* Individual store prices may vary.
Description
This is aimed at teenagers and under 25s who make computer games, but often struggle to source the music for their work. It focuses on how to create simple background music, using basic software like Garageband, to more sophisticated apps such as Logic Pro., Cubase etc. There a place for Muzys as well. The book shows how to use stock libraries and samples, how to get hold of them, and use them effectively. Styles and techniques is addressed too, such as creating a simple two bar riffs to represent each character, and how to weave them into the storytelling elements of the game. The book is for non-musicians, but will help them understand music, and use it as a tool to achieve their goals.
Flame Tree Illustrated, 9781783619184, 128pp.
Publication Date: April 27, 2016
About the Author
Ronan Macdonald (foreword) has written for a plethora of magazines, including Future Music, The Mix, Hip-Hop Connection and Guitarist. He has also occupied the editor's chair on Rhythm, the UK's leading drummer magazine, and currently edits Computer Music, the world's only dedicated music software magazine. David Newman (author) began making music for computer games in 1991 on the Commodore Amiga using tracker sequencers. Early titles include the Comic Relief smash 'Sleepwalker', which eventually came to be bundled with the Amiga itself. He has since written music for many games on platforms ranging from the Atari Jaguar and Sony PlayStation through to modern day PCs and iOS devices. David also composes for TV commericals, writes music tutorials and reviews and has a regular tracker column in Computer Music magazine. Robert Johnson (author). After performing and recording with bands in his early teens, Robert went on to write for influential producer Youth and his iconic WAU! Mr. Modo label. One of his singles included a dance version of 'Roxanne' by the Police for EMI records. He has composed for TV programmes, advertising and short films. After a time as composer for leading Dutch music production company, Soundscape, he held a senior music role with global music-branding giant, Mood Media. Robert has since set up music production company, The Music Surgery.
or
Not Currently Available for Direct Purchase