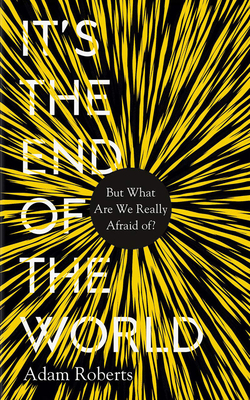 It's the End of the World
But What Are We Really Afraid Of?
Hardcover

* Individual store prices may vary.
Description
Are we doomed? Is an almighty power or an earth-shattering meteor waiting for us just around the corner?

In this thought-provoking book, Professor Adam Roberts explores our many different cultural visions of the end of the world - likely and unlikely, mundane and bizarre - and what they say about how we see ourselves and our societies. What is it is that we are really afraid of? An uncaring universe; an uncontrollable environment; the human capacity for destruction; or just our own, personal apocalypse - our mortality?

From last man and dying earth fiction to zombies swarming on screen and the ruined landscapes of immersive gaming, via sweeping contagions, invading aliens, falling bombs and rising robots, buckle up for the end of the world.
Praise For It's the End of the World: But What Are We Really Afraid Of? …
"Honed by writing his novels, which are quirky, full of ideas and intertexuality, Roberts's style in this short non-fiction book is equally fun, he indulges his sense of humour deliberately which makes him an engaging commentator." --
Shiny New Books
"Roberts gives us many sharp insights into religion, history, philosophy, and popular culture – in particular, of course, our own patch of popular culture: science fiction. . . . These are large topics for a book of 193 pages, plus index. Within its confines Roberts has done far more than take the four horsemen out for a canter: he spurs them to a gallop and makes them break sweat. The show is well worth the price of admission, and sends us away deep in thought." --Shoreline of Infinity
Elliott & Thompson, 9781783964741, 208pp.
Publication Date: November 1, 2021
About the Author
Adam Roberts is a writer, critic, and Professor of Nineteenth-Century Literature at Royal Holloway University. He is also the author of more than twenty science fiction novels, including Jack Glass, which won the BSFA Award for Best Novel. He is the author of the Palgrave History of Science Fiction and reviews regularly for the Guardian.