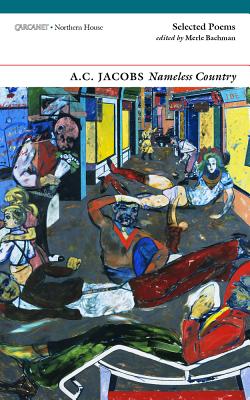 Nameless Country
Selected Poems
Paperback

* Individual store prices may vary.
Description
Nameless Country gathers poems by the Scottish-Jewish poet Arthur "A.C." Jacobs, whose work, somewhat critically neglected in the past, has gained new resonance for twenty-first-century readers. Writing in the shadow of the Holocaust, Jacobs in his poems confronts his complex cultural identity as a Jew in Scotland, as a Scot in England, and as a diaspora Jew in Israel, Italy, Spain and the UK.

A self-made migrant, Jacobs was a wanderer through other lands and lived in search, as he puts it, of the "right language," which "exists somewhere / Like a country." His poems are attuned to linguistic and geographic otherness and to the lingering sense of exile that often persists in a diaspora. In his quiet and philosophical verse we recognise an individual's struggle for identity in a world shaped by migration, division and dislocation.
Carcanet Press Ltd., 9781784106751, 144pp.
Publication Date: October 25, 2018
About the Author
A. C. (Arthur) Jacobs was born in Glasgow into an Orthodox Jewish family in 1937 and grew up under the shadow of the Holocaust. An erudite and committed poet from a young age, he became a self-made migrant, a wanderer through countries and through other people's more settled lives. He was a Jew in Scotland, a Scot in England, and a diaspora Jew wherever he travelled. Nameless Country returns selections of A.C. Jacobs' poetry to a 21st-century audience. His poems compel our attention because they bear the stamp of their long-ago moment but in their embrace of complex identities, speak clearly to our own.

Merle Lyn Bachman is a poet, Yiddishist, and an Associate Professor of English at Spalding University in Louisville, Kentucky, where she directs the undergraduate Creative Writing program. She is a 2015 Translation Fellow of the National Yiddish Book Center. Anthony Rudolf is a major translator of literary works from French, Russian and other languages, including books by Yves Bonnefoy, Claude Vigée, Edmond Jabès, and Evgeny Vinokurov. He is also the author of a trilogy of memoirs: Silent Conversations: a Reader's Life, A Vanished Hand and The Arithmetic of Memory. His critical work includes the first extended study in English of Primo Levi and a wide range of essays on international modernist writers.
or
Not Currently Available for Direct Purchase