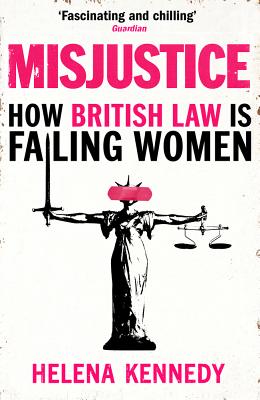 Eve Was Shamed
How British Justice is Failing Women
Paperback

* Individual store prices may vary.
Description
What comes after #MeToo? One of our most eminent lawyers and defenders of human rights answers with this urgent, authoritative and deeply shocking look at British justice
In Eve Was Shamed Helena Kennedy forensically examines the pressing new evidence that women are still being discriminated against throughout the legal system, from the High Court (where only 21% of judges are women) to female prisons (where 84% of inmates are held for non-violent offences despite the refrain that prison should only be used for violent or serious crime). In between are the so-called 'lifestyle' choices of the Rotherham girls; the failings of the current rules on excluding victims' sexual history from rape trials; battered wives being asked why they don't 'just leave' their partners; the way statistics hide the double discrimination experienced by BAME and disabled women; the failure to prosecute cases of female genital mutilation… the list goes on. The law holds up a mirror to society and it is failing women.
The #MeToo campaign has been in part a reaction to those failures. So what comes next? How do we codify what we've learned? In this richly detailed and shocking book, one of our most eminent human rights thinkers and practitioners shows with force and fury that change for women must start at the heart of what makes society just.
Praise For Eve Was Shamed: How British Justice is Failing Women…
"Stimulating and scary" - Jeanette Winterson - Guardian

"An excellent and forensic takedown... fascinating and chilling... women are being let down wholesale by a justice system designed with men in mind. And almost the worst thing is, it doesn't have to be this way" - Caroline Criado-Perez - Guardian

"An unflinching look at women in the justice system… an important book because it challenges acquiescence to everyday sexism and inspires change" - Kirsty Brimelow - The Times, **Books of the Year**

"Helena Kennedy has written a chilling exposé of how the law has historically failed women. Taking no prisoners, Kennedy outlines the damage we must undo, and the changes we must make. Eve was Shamed is a necessary book for the #MeToo era" - Amanda Foreman -

"Passionate and persuasive proof that equal justice is an ideal yet to be achieved. Drawing upon her outstanding career at the defence Bar and of leading reform in Parliament, Helena Kennedy eloquently urges an end to the discrimination and dehumanisation that women suffer in the courts, and in their lives" - Geoffrey Robertson QC -
Vintage, 9781784707682, 352pp.
Publication Date: December 1, 2019
About the Author
Helena Kennedy is one of Britain's most distinguished lawyers and public figures. She is a regular broadcaster, journalist, and lecturer and throughout her career has focused on giving voice to those who have least power in the system, championing civil liberties and civil rights. Her 1992 book Eve Was Framed led to a number of key reforms for women and was followed in 2004 by Just Law. She was the Master of Mansfield College, University of Oxford, from 2011 to 2018, and was awarded a life peerage in 1997.
or
Not Currently Available for Direct Purchase