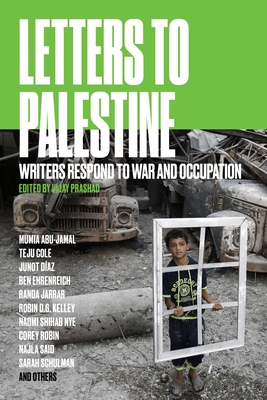 Letters to Palestine
Writers Respond to War and Occupation
Paperback

* Individual store prices may vary.
Description
Operation Protective Edge, Israel's seven-week bombing campaign and ground invasion of Gaza in the summer of 2014, resulted in half a million displaced Gazans, tens of thousands of destroyed homes, and more than 2,000 deaths—and, yet, it was only the latest in a long series of assaults endured by Palestinians isolated in Gaza. But, following the conflict, polls revealed a startling fact: for the first time, a majority of Americans under thirty found Israel's actions unjustified. Jon Stewart aired a blistering attack on Israeli violence, and a video of a UN spokesperson weeping as he was interviewed in Gaza went viral, appearing on Vanity Fair and Buzzfeed, among other sites.

This book traces this swelling American recognition of Palestinian suffering, struggle, and hope, in writing that is personal, lyrical, anguished, and inspiring. Some of the leading writers of our time, such as Junot Díaz and Teju Cole, poets and essayists, novelists and scholars, Palestinian American activists like Huwaida Arraf, Noura Erakat, and Remi Kanazi, give voice to feelings of empathy and solidarity—as well as anger at US support for Israeli policy—in intimate letters, beautiful essays, and furious poems. This is a landmark work of controversial, committed literary writing.
Praise For Letters to Palestine: Writers Respond to War and Occupation…
"This is a sci-fi book about a dystopian future in which the government has decreed that large segments of the population may not vote and must be relegated to only a portion of the land. The government claims that this is decreed by God. A couple dozen of the most talented writers in the world have to come together to convince the world that the bombing of the families and children of that portion of land is wrong. It is a crazy read that would be horrifying if it were happening today."
—Boots Riley

"The growing recognition of the plight of Palestinians, and support for their struggle for their rights, particularly among younger people, is a welcome and important phenomenon. The contributions here both reflect these developments and should help inspire them."
—Noam Chomsky

"A pretty miraculous compilation of essays and poetry … There is some beautifully rendered rage in this book that's been sitting in my chest ever since I put it down."
—Jezebel ("The Best Things We've Read, Heard and Seen in 2015 So Far")
Verso, 9781784780678, 240pp.
Publication Date: April 14, 2015
About the Author
Vijay Prashad is the George and Martha Kellner Chair in South Asian Studies and professor of International Relations at Trinity College, Hartford, CT. He is the author of ffteen books, including The Darker Nations and The Poorer Nations. He is a columnist for the Hindu and Frontlines, and a regular contributor to many publications, including Counterpunch.
or
Not Currently Available for Direct Purchase