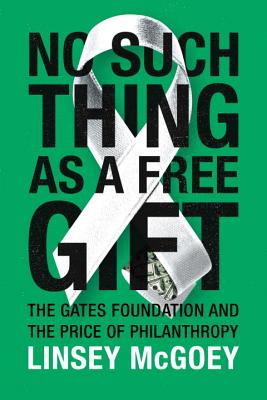 No Such Thing as a Free Gift (Hardcover)
The Gates Foundation and the Price of Philanthropy
Verso, 9781784780838, 304pp.
Publication Date: October 20, 2015
Other Editions of This Title:
Paperback (10/4/2016)
* Individual store prices may vary.
Description
Philanthro-capitalism: How charity became big business

The charitable sector is one of the fastest-growing industries in the global economy. Nearly half of the more than 85,000 private foundations in the United States have come into being since the year 2000. Just under 5,000 more were established in 2011 alone. This deluge of philanthropy has helped create a world where billionaires wield more power over education policy, global agriculture, and global health than ever before.

In No Such Thing as a Free Gift, author and academic Linsey McGoey puts this new golden age of philanthropy under the microscope—paying particular attention to the Bill and Melinda Gates Foundation. As large charitable organizations replace governments as the providers of social welfare, their largesse becomes suspect. The businesses fronting the money often create the very economic instability and inequality the foundations are purported to solve. We are entering an age when the ideals of social justice are dependent on the strained rectitude and questionable generosity of the mega-rich.
About the Author
Linsey McGoey is a Senior Lecturer in Sociology at the University of Essex. She has been a member of the World Health Organization's expert steering group on the impact of a human rights–based approach to maternal and children's health. She has published reviews and op-eds for the Guardian, Spectator, Globe and Mail and Open Democracy.
Praise For No Such Thing as a Free Gift: The Gates Foundation and the Price of Philanthropy…
"The charitable model represented by the Gates Foundation is failing to address the root causes of inequality and ecological crisis. This path-breaking book is a sorely needed, historically grounded investigation into the difference between philanthropy and justice."
—Naomi Klein, author of This Changes Everything and The Shock Doctrine

"Fierce … provocatively examines the power imbalances and ambiguities of charitable giving … a clear-eyed and much-needed study."
—Andy Beckett, Guardian

"On both the left and the right, social critics sense that there is something deeply corrupt in the way we live now … With extraordinary insight and original investigation, Linsey McGoey understands how this twenty-first century mess was made. Her voice is reasoned and never shrill, her research is solid, and her courage is remarkable. Rather than spin far-fetched conspiracy theories, she simply shows what the oligarchs are doing in plain sight, which is frightening enough."
—Jonathan Rose, author of The Intellectual Life of the British Working Classes

"McGoey correctly questions whether Big Government would, in fact, be more efficient than Big Philanthropy in addressing the rise of inequality."
—New Republic

"It's worth hearing what she has to say, because it's not said enough … we give too little scrutiny to people like Gates, and too much credence to the idea that philanthrocapitalism can 'save the world.'"
—Fast Company

"Picking up the cudgels wielded by Ida Tarbell and her fellow trustbusters, McGoey produces a startling report."
—Kirkus

"A timely criticism of a society that allows an individual to accumulate such a distorting amount of financial power; it is an indictment of unaccountable power."
—Maclean's

"A brave, intelligent and important book that raises vital questions about the full impact of a key source of the world's public health funding. As the book shows the drive to do good can raise a host of ethical and policy questions—many of which have not been considered or even acknowledged prior to this book."
—Arthur Caplan, New York University

"A book that is by equal measure provocative and compelling that finally gives a voice to concerns that many have silently harbored … charts the speed of the Foundation's emergence and influence with conceptual fluency and historically referenced gusto that in parts left me gobsmacked."
—Sophie Harman, Queen Mary, University of London

"Impeccably researched and beautifully written, Linsey McGoey's book is the best and most complete examination of the Gates Foundation and the workings of big philanthropy. A must-read for anyone concerned with where the world is heading."
—Michael Edwards, Distinguished Senior Fellow, Demos

"In this valuable, dense, but accessible book, McGoey illuminates a major cultural shift in leadership and control of power in the US. Highly recommended."
—Choice

"A lively and well-argued antidote to the comfortable but superficial assumption that giving money away is, by definition, good: it helps you understand why things are more complicated than that."
—Third Sector

"Essential reading for any scholar interested in contemporary development issues … McGoey convincingly shows that contemporary philanthropic thinking abides by the same underlying ideology than that of the so-called robber barons."
—Review of Agricultural, Food and Environmental Studies
or
Not Currently Available for Direct Purchase