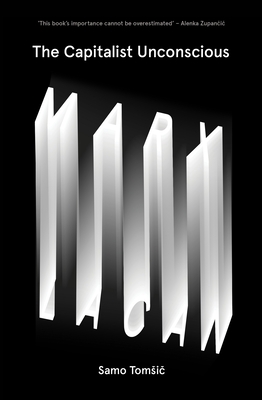 The Capitalist Unconscious
Marx and Lacan
Paperback

* Individual store prices may vary.
Other Editions of This Title:
Hardcover (4/5/2016)
Description
A major systematic study of the connection between Marx and Lacan's work

Finalist for the American Board and Academy of Psychoanalysis Book Prize

Despite a resurgence of interest in Lacanian psychoanalysis, particularly in terms of the light it casts on capitalist ideology—as witnessed by the work of Slavoj Žižek—there remain remarkably few systematic accounts of the role of Marx in Lacan's work.

A major, comprehensive study of the connection between their work, The Capitalist Unconscious resituates Marx in the broader context of Lacan's teaching and insists on the capacity of psychoanalysis to reaffirm dialectical and materialist thought. Lacan's unorthodox reading of Marx refigured such crucial concepts as alienation, jouissance and the Freudian 'labour theory of the unconscious'. Tracing these developments, Tomšič maintains that psychoanalysis, structuralism and the critique of political economy participate in the same movement of thought; his book shows how to follow this movement through to some of its most important conclusions.
Praise For The Capitalist Unconscious: Marx and Lacan…
"Samo Tomšič's achievement is to explain how the reference to psychoanalysis is crucial if we are to provide a theoretical framework for a confrontation with the totality of global capitalism. To be a Marxist today, one has to go through Lacan!"
—Slavoj Žižek

"The first book-length study of Lacan's reading of Marx in the English language, filling an almost scandalous gap—which it does splendidly. It offers many original and most compelling insights into both Marx and Lacan."
—Alenka Zupančič

"The Capitalist Unconscious does the simple thing that's so hard to do: taking Lacan seriously as a reader of Marx. Against all the confusions and failures that have often characterized attempts to synthesize Freud and Marx, Tomšič argues that we must think the structure of the unconscious and the structure of capitalism together."
—Benjamin Noys

"Thought you'd never hear anything new about Jacques Lacan or for that matter Karl Marx or Sigmund Freud? Then give Samo Tomšič's The Capitalist Unconscious a listen. Daringly original, Tomšič does a masterful job of orchestrating the works of Marx, Freud, and Lacan, playing their ideas off of one another in varying arrangements to produce a composition that is wholly new and exhilarating."
—Andrew Cole, Critical Inquiry

"Recognizing the relationship between the unconscious and capitalism, with Tomšič's help, will make us better equipped to continue this class struggle. One of the most important books of the year."
—Alfie Bown, Hong Kong Review
Verso, 9781784781088, 256pp.
Publication Date: December 8, 2015
About the Author
Samo Tomšič obtained his PhD in philosophy at the University of Ljubljana, Slovenia. In the past he has worked at the Institute of Philosophy in Ljubljana and at the Jan van Eyck Academy in Maastricht, and is currently research assistant in the interdisciplinary cluster "Image Knowledge Gestaltung" at the Humboldt University in Berlin.
or
Not Currently Available for Direct Purchase