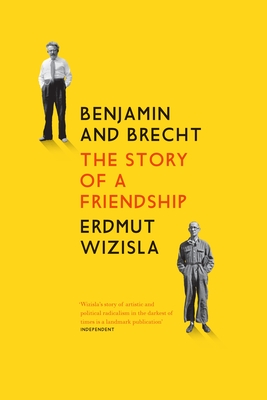 Benjamin and Brecht (Paperback)
The Story of a Friendship
Verso, 9781784781125, 272pp.
Publication Date: August 9, 2016
* Individual store prices may vary.
Description
A fascinating account of the friendship between two of the most brilliant minds of the twentieth century

Germany in the mid 1920s, a place and time of looming turmoil, brought together Walter Benjamin—acclaimed critic and extraordinary literary theorist—and Bertolt Brecht, one of the twentieth century's most influential playwrights. It was a friendship that would shape their writing for the rest of their lives.

In this groundbreaking work, Erdmut Wizisla explores what this relationship meant for them personally and professionally, as well as the effect it had on those around them. From the first meeting between Benjamin and Brecht to their experiences in exile, these eventful lives are illuminated by personal correspondence, journal entries and private miscellany—including previously unpublished materials—detailing the friends' electric discussions of their collaboration. Wizisla delves into the archives of other luminaries in the distinguished constellation of writers and artists in Weimar Germany, which included Margarete Steffin, Theodor Adorno, Ernst Bloch and Hannah Arendt. Wizisla's account of this friendship opens a window on nearly two decades of European intellectual life.
About the Author
Erdmut Wizisla is the Director of the Brecht and the Benjamin Archives in Berlin, and an Honorary Professor of German Literature at Humbolt University of Berlin.
Praise For Benjamin and Brecht: The Story of a Friendship…
"If this book had appeared decades ago, it would have terminated an unproductive debate in one fell swoop: that of the influence—be it fruitful, be it disastrous—of probably the most significant German playwright and poet of the 20th century, Bertolt Brecht, on probably the most significant critic of his day, Walter Benjamin … Scrupulous, scholarly, and written with loving commitment."
—Momme Brodersen, author of Walter Benjamin, A Biography

"What emerges from this rich selection of materials is not merely a fuller picture of these towering figures but also of the working life of intellectual production,deliberation, and publication on the part of a vibrant scene of letters, culture, and activism under threat of imminent dissolution."
—Henry Sussman, Yale University

"With great archival expertise, Wizisla captures the spontaneity, energy, and excitement of Benjamin's and Brecht's thinking in process; their efforts to arrive at an aesthetic that expresses Communist practice; and their struggle tocome to terms with Soviet reality under Stalin."
—Gitta Honegger, Arizona State University

"Wizisla's story of artistic and political radicalism in the darkest of times is a landmark publication. These two friends 'inhabited' their times supremely well; their traces ought to inspire us in ours."
—Independent
or
Not Currently Available for Direct Purchase