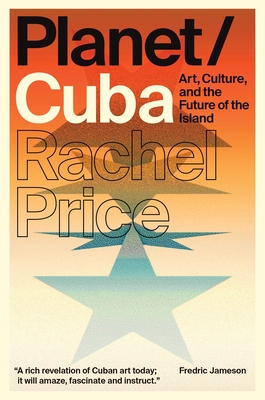 Planet/Cuba (Paperback)
Art, Culture, and the Future of the Island
Verso, 9781784781217, 256pp.
Publication Date: November 3, 2015
Other Editions of This Title:
Hardcover (4/5/2016)
* Individual store prices may vary.
Description
Transformations in Cuban art, literature and culture in the post-Fidel era

Cuba has been in a state of massive transformation over the past decade, with its historic resumption of diplomatic relations with the United States only the latest development. While the political leadership has changed direction, other forces have taken hold. The environment is under threat, and the culture feels the strain of new forms of consumption.

Planet/Cuba examines how art and literature have responded to a new moment, one both more globalized and less exceptional; more concerned with local quotidian worries than international alliances; more threatened by the depredations of planetary capitalism and climate change than by the vagaries of the nation's government. Rachel Price examines a fascinating array of artists and writers who are tracing a new socio-cultural map of the island.
About the Author
Rachel Price is a professor in the department of Spanish and Portuguese at Princeton University. Her first book, The Object of the Atlantic: Concrete Aesthetics in Cuba, Brazil and Spain 1868–1968 is forthcoming from Northwestern University Press. She has published several articles and book chapters in various journals, including Frieze, La Habana Elegante, Grey Room, Journal of Latin American Cultural Studies, Review and Americas Society.
Praise For Planet/Cuba: Art, Culture, and the Future of the Island…
"A rich revelation of Cuban art today; it will amaze, fascinate and instruct."
—Fredric Jameson

"This brilliant book charts the cultural life in Cuba from the coming to power of Raúl Castro to the 'normalization' of relations with the US. What could be more timely than a cognitive map of this already heterogeneous island, once a trigger point in the Cold War, as it is vectored by new forces that are planetary in reach—neoliberalism, climate change, and pervasive surveillance?"
—Hal Foster, author of Bad New Days: Art, Criticism, Emergency

"Price's insights into this complicated and conflictive landscape make for cultural criticism at its best—ample in range, acute in its eye for the telling detail. Contemporary Cuba is a moving target and this book gets that, following along with clarity, grace and flashes of illumination."
—Rachel Weiss, author of To and From Utopia in the New Cuban Art

"A superbly crafted book that takes scholarship on Cuban art and literature in a fresh, entirely new direction. Planet/Cuba is both uniquely timely and full of foresight: it will shape discussion of contemporary Cuba for years to come."
—Esther Whitfield, Brown University

"This meticulously detailed text is a productive exploration of globalized Cuban art and culture."
—Publisher's Weekly

"Price shrewdly surveys art in Cuba over the period since Fidel Castro ceded control of the government to his brother Raúl … [An] excellent and welcome study."
—Choice