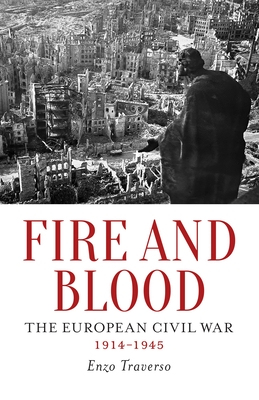 Fire and Blood (Hardcover)
The European Civil War, 1914-1945
Verso, 9781784781330, 304pp.
Publication Date: January 12, 2016
Other Editions of This Title:
Paperback (3/28/2017)
* Individual store prices may vary.
Description
Europe's second Thirty Years' War—an epoch of blood and ashes

Fire and Blood looks at the European crisis of the two world wars as a single historical sequence: the age of the European Civil War (1914–1945). Its overture was played out in the trenches of the Great War; its coda on a ruined continent. It opened with conventional declarations of war and finished with "unconditional surrender." Proclamations of national unity led to eventual devastation, with entire countries torn to pieces. During these three decades of deepening conflicts, a classical interstate conflict morphed into a global civil war, abandoning rules of engagement and fought by irreducible enemies rather than legitimate adversaries, each seeking the annihilation of its opponents. It was a time of both unchained passions and industrial, rationalized massacre. Utilizing multiple sources, Enzo Traverso depicts the dialectic of this era of wars, revolutions and genocides. Rejecting commonplace notions of "totalitarian evil," he rediscovers the feelings and reinterprets the ideas of an age of intellectual and political commitment when Europe shaped world history with its own collapse.
About the Author
Enzo Traverso taught political science for almost twenty years in France. Since 2013, he has been Susan and Barton Winokur Professor in the Humanities at Cornell University. His publications, all translated into various languages, include more than ten authored and edited books, including The Marxists and the Jewish Question, The Jews and Germany, Understanding the Nazi Genocide and The Origins of Nazi Violence.
Praise For Fire and Blood: The European Civil War, 1914-1945…
"Enzo Traverso's investigation is based on a brilliant—although controversial—idea. It is an important book that deserves to prompt vast and interesting debates."
—Saul Friedländer, UCLA, author of Nazi Germany and the Jews and The Years of Extermination

"Written with empathy and perspicacity, Fire and Blood takes the measure of the explosion of violence—revolutionary vs. counter-revolutionary, fascist vs. anti-fascist, military vs. civilian—that constituted the European 'civil war' of the first half of the twentieth century. Enzo Traverso's admirable erudition and judiciousness make this work an indispensable synthesis."
—Anson Rabinbach, Princeton University

"Despite thousands of books on the two world wars, we are still far from understanding the violence that tore Europe apart between 1914 and 1945. By conceiving of the conflict as a civil war, Enzo Traverso provides us with a new way to think about the disaster that continues to shape the twenty-first century."
—Joanna Bourke, Birkbeck College

"Enzo Traverso's provocative book poses a profoundly important question to modern history. How can we understand the 'age of extremes' (1914 to 1945) from a present—our present day in the west—that is in general terms allergic to 'ideology' and convinced that 'there is no alternative'? What happens when an anodyne and self-satisfied liberalism projects its values back into an earlier era of intense political struggle?"
—Adam Tooze, Guardian

"Nuanced and erudite … Fire and Blood is more than a history of a catastrophe that began a hundred years ago. It is also a warning of a potential future."
—Ron Jacobs, CounterPunch

"Incisive, challenging, and compelling interpretation of the European wars of annihilation, whose consequences still reverberate."
—George de Stefano, Pop Matters

"Remarkable."
—Jonathan Sturgeon, Flavorwire

"This wonderful book … is not a simple history of [the 1914–45 period]. Rather it examines the ideas which underlay the mass movements of the inter war years, and why the morality of pre-1914 Europe was undermined by a generation scarred by the horror of the First World War."
—Chris Bambery, CounterFire

"One must admire Traverso's ambitious synthesis of theory and recent scholarship."
—Shelley Baranowski, University of Akron

"This is engaged history at its best … Fire and Blood is a passionate and bracing contribution to the issues that bedeviled Western political intellectuals in the age of extremism."
—Russell Jacoby, UCLA, author of Bloodlust and The Last Intellectuals

"A remarkable study on the politics of violence."
—Dan Diner, Hebrew University of Jerusalem, author of America in the Eyes of the Germans

"Fluently written and employing a synthetic approach that will appeal to the common reader."
—Nitzan Lebovic, Haaretz

"Enzo Traverso has pulled off the rare reconstruction of a past epoch that pulsates with electric immediacy. Fire and Blood fashions events happening seventy-five-to-one-hundred years ago to feel as lively and pertinent as political debates taking place at present."
—Alan Wald, Against the Current

"Cannot be neglected by anyone with the temerity to approach the subject in future."
—Al Richardson, Revolutionary History

"A magisterial interpretation of an epoch that threw Europe into chaos; it is one of those great books on the twentieth century which will be discussed in the coming years."
—Alexandra Laignel-Lavastine, Le Monde

"[A] remarkable reinterpretation of the history of the 'Thirty Years War' of the twentieth century … recreates the ethos of this time."
—Michael Löwy, Le Monde Diplomatique

"The latest historiographical work of Enzo Traverso is the result of years, probably decades of investigation on the topics of wars, fascist dictatorships, intellectual exile, the Holocaust and the Nazi violence. Until now, he had approached them only separately, and today, at the height of his historiographical maturity, he gathers them in a global interpretation of the most intricate, as well as terrible period of the history of the twentieth century."
—Marcello Flores, Dieci Libri dell'anno

"Sharply sketched … impressive … powerful … Fire and Blood opens the window, lets in fresh air and clears the intellectual fog."
—Tim B. Müller, Süddeutsche Zeitung

"Even those who don't agree with many of Traverso's theses and interpretations should undoubtedly recognize that his particular analyses are impressive. His phenomenological approach to the manifestations of violence and fear not only in social and political life but also in music, arts, literature and movies of this age, as he shows giving the examples of Igor Stravinsky, Max Beckmann, Louis Ferdinand Céline and Fritz Lang, are instructive and stimulating."
—Frankfurter Allgemeine Zeitung

"In tracing the historical origins and logic of this civil war, Traverso offers a powerful indictment of how the collective memory of it emerged over time in ways that are still felt today."
—Daniel Egan, Socialism and Democracy

"One of the most significant books of the last decade—a great book that only a great historian could write."
—Historia y Política

"The best general study on the European civil war … A magnificent historical, political and philosophical analysis."
—Sociología Histórica
or
Not Currently Available for Direct Purchase