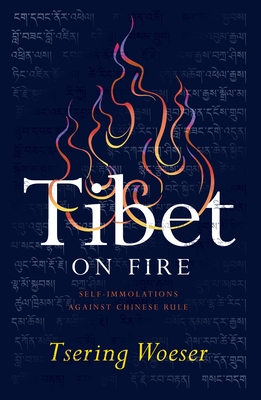 Tibet on Fire (Paperback)
Self-Immolations Against Chinese Rule
Verso, 9781784781538, 128pp.
Publication Date: January 12, 2016
* Individual store prices may vary.
Description
Why Tibetan monks are setting themselves on fire

Since the 2008 uprising, nearly 150 Tibetan monks have set fire to themselves in protest at the Chinese occupation of their country. Most have died from their injuries. Author Tsering Woeser is a prominent voice of the Tibetan movement, and one of the few Tibetan authors to write in Chinese. Her stirring acts of resistance have led to her house arrest, where she remains under close surveillance to this day. Tibet On Fire is her account of the oppression Tibetans face and the ideals driving those who resist, both the self-immolators and other Tibetans like herself.

With a cover image designed by Chinese dissident artist Ai Weiwei, Tibet on Fire is angry and cogent: a clarion call for the world to take action.
About the Author
Tsering Woeser is a poet, essayist and blogger, and one of the Tibetan movement's most prominent voices. In 2011 she was awarded the Prince Claus Prize and the International Women of Courage Award by the US Department of State. She lives under close surveillance in Beijing.
Praise For Tibet on Fire: Self-Immolations Against Chinese Rule…
"Woeser's is now the most eloquent voice defending the dissidents inside Tibet."
—Jonathan Mirsky, New York Review of Books

"Readers of Tsering Woeser's essays and reportage know well how anguished she has been at the acts of self-immolation that have taken place in Tibet and Tibetan communities since 2009. An internationally renowned Tibetan poet and writer, Woeser is one of the most well-informed and trenchant commentators on Tibet today, and with this volume she presents readers with a unique and well-reasoned analysis and account of the phenomenon of self-immolation in Tibet, its precipitating causes and its significance. This is a most important book about a most urgent subject: the ongoing consequences of continued Chinese repression in Tibet."
—Elliot Sperling, Associate Professor of Central Eurasian Studies at the University of Indiana and author of The China–Tibet Conflict: History and Polemics

"Tibet on Fire is a deeply moving and humanizing book by an intrepid women with one foot in both Tibetan and Chinese societies. Woeser takes us behind the headlines and helps us better understand why so many Tibetan people have chosen to end their lives in this horrific form of protest. In a country where there are fewer and fewer critical voices, Tsering Woeser stands out for her courageous and pointed criticism of China's current ethnic policies."
—James Leibold, author of Ethnic Policy in China: Is Reform Inevitable?

"This book is as thoroughly documented as possible. Tibet on Fire may be a concise volume, but it conveys rare voices that would otherwise be hushed."
—Spectrum Culture
or
Not Currently Available for Direct Purchase