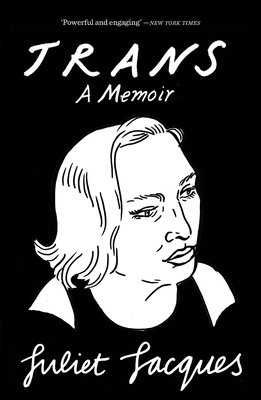 Trans
A Memoir
Paperback

* Individual store prices may vary.
Other Editions of This Title:
Hardcover (9/22/2015)
MP3 CD (7/4/2017)
Description
An extraordinary memoir of transition and transgender politics and culture
"Six weeks before sex reassignment surgery (SRS), I am obliged to stop taking my hormones. I suddenly feel very differently about my forthcoming operation."

In July 2012, aged thirty, Juliet Jacques underwent sex reassignment surgery—a process she chronicled with unflinching honesty in a serialised national newspaper column. Trans tells of her life to the present moment: a story of growing up, of defining yourself, and of the rapidly changing world of gender politics.

Fresh from university, eager to escape a dead-end job, she launches a career as a writer in a publishing culture dominated by London cliques and still figuring out the impact of the Internet. She navigates the treacherous waters of a world where, even in the liberal and feminist media, transgender identities go unacknowledged, misunderstood or worse. Yet through art, film, music, politics and football, Jacques starts to become the person she had only imagined, and begins the process of transition. Interweaving the personal with the political, her memoir is a powerful exploration of debates that comprise trans politics, issues which promise to redefine our understanding of what it means to be alive.

Revealing, honest, humorous, and self-deprecating, Trans includes an epilogue with Sheila Heti, author of How Should a Person Be?, in which Jacques and Heti discuss the cruxes of writing and identity.
Praise For Trans: A Memoir…
"Powerful and engaging … it's hard not to see [Jacques] as anything other than brave, even as she pushes readers to recognize that what is revolutionary is the very ordinariness of her day-to-day life."
—New York Times

"Brave and moving, Trans is necessary reading for anyone who cares about gender, power, freedom and desire. Juliet Jacques deals with the forces of cruelty and ignorance with a hard-won clarity and calm. A vital voice in our turbulent times."
—Olivia Laing, author of The Trip to Echo Spring

"Trans is a marvelously nuanced journey through gender, brilliantly contextualized in the disparate worlds of pop culture, football, mass media, and the NHS. This is a terrific read by an accomplished author."
—Kate Bornstein, author of A Queer and Pleasant Danger

"Understated and urgent, Jacques comes across as a woman carrying an ambiguity she doesn't seem to want or feel able fully to shed … She confounds the distinction, not just between male and female, but also between the emotional atmospheres which the various trans identities are meant—'instructed' may be the right word—to personify."
—Jacqueline Rose, London Review of Books

"[Jacques's] storytelling is clear-eyed and evocative."
—Cat Fitzpatrick, Lambda Literary Review

"Trans challenges us all, no matter what our gender or sexuality. Ultimately, it makes us look at our selves, and wonder what price we pay for the identities we assume, or which we have thrust upon us."
—Philip Hoare, New Statesman

"I Am Cait for the literary set. Jacques lays her transitioning experience bare—hormones and surgery and all."
—New York Magazine

"Juliet Jacques has a funny, ruthlessly honest voice that readers will dig."
—Susie Rodarme, Book Riot

"An honest, articulate account of one life so far."
—Stephen Burt, Guardian

"Brutally honest and funny."
—Marie Claire

"Trans broadens the growing genre of trans literature in its portrayal of medical and social transition as a means of achieving personal congruity rather than ostensible womanhood. This makes it an important contribution to transgender literature … Where Trans breaks new ground is in the complexity of its narrator and her willingness to take a brutally honest look at her motives and attitudes throughout the process."
—Harvard Gay & Lesbian Review

"Trans is about what it's like to be an outsider, about the difficult interplay between gender variance and social acceptance … In making herself vulnerable, Jacques shows how likeable she is. At the end of the book I wanted to be her friend, and you will too."
—New Humanist

"A lyrical exploration of [Jacques's] gender journey … Thoughtful and intimate, it's a fine successor to books such as Jan Morris's Conundrum."
—Guardian ("Best Politics Books of the Year")

"As dedicated to educating the ignorant public as Jacques is, she's also committed to a narrative that nurtures people who share her experiences, and her writing is free of sanitized, after-school-special, feel-good endings … A hybrid memoir that offers alternative conversations to disarm and dismantle a hostile, antagonistic, and often violent cultural climate towards transgender individuals."
—Vanessa Willoughby, Mask Magazine

"Jacques is trapped in the wrong narrative, and Trans offers the possibility of a more complete one, with a holistic personal story that does not reject pre-transition identity, and an understanding that gender lies on a continuum … the most sublime moments in Trans come when Jacques shares with us a vision she has gained—and often these are hard-won—into what it means to have a unified self, whether it's when she receives recognition from her parents for her success, has a great day on the soccer field, or simply feels good in her skin."
—Amanda DeMarco, Flavorwire

"[Jacques] has a Proustian rhythm and pace. Her evenness of voice, when discussing personal and emotional detail of the very intense and difficult parts of her life let the viewer share a comfortable intimacy with her, that I can only imagine was difficult to balance while maintaining a sense of self and privacy … [Trans] is a history as well as a personal history."
—Seattle Review of Books

"An inherently fascinating read and one of those intensely personal stories that will linger in the mind and memory long after the autobiography is finished and set back upon the shelf."
—Midwest Book Review

"Trans maintains the quick pacing and firebrand tone from Jacques's Guardian writings, while treading far deeper into theory and the author's personal life and further developing her natural skill for transmuting abstract concepts into engaging life stories … Her authorial voice mixes passion with a grittiness inherited from her history in several UK alternative music scenes. [Trans] maintains a slick, effortless tone characteristic of all Jacques' writing."
—Scott Esposito, Literary Hub

"A thoughtful and honest account of the realities of life as a trans woman … accessible and relatable, regardless of your gender identity."
—Independent
Verso, 9781784781675, 320pp.
Publication Date: November 15, 2016
About the Author
Juliet Jacques is a freelance writer, best known for the Guardian's "Transgender Journey"—the first time the gender reassignment process had been serialised for a major British publication. Her column was longlisted for the Orwell Prize in 2011. She was included in the Independent's Pink List for 2012, 2013 and 2014, and is a regular contributor to the New Statesman. She has also written for Granta, TimeOut, Filmwaves, 3am, the London Review of Books, the New Humanist, the New Inquiry, and many other publications. She lives in London.
or
Not Currently Available for Direct Purchase