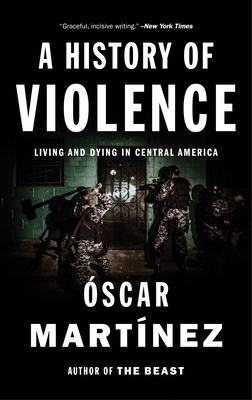 A History of Violence
Living and Dying in Central America
Paperback

* Individual store prices may vary.
Other Editions of This Title:
Hardcover (3/8/2016)
Description
This revelatory and heartbreaking immersion into the lives of people enduring extreme violence in Central America is a powerful call for immigration policy reform in the United States

El Salvador and Honduras have had the highest homicide rates in the world over the past ten years, with Guatemala close behind. Every day more than 1,000 people—men, women, and children—flee these three countries for North America. Óscar Martínez, author of The Beast, named one of the best books of the year by the Economist, Mother Jones, and the Financial Times, fleshes out these stark figures with true stories, producing a jarringly beautiful and immersive account of life in deadly locations.

Martínez travels to Nicaraguan fishing towns, southern Mexican brothels where Central American women are trafficked, isolated Guatemalan jungle villages, and crime-ridden Salvadoran slums. With his precise and empathetic reporting, he explores the underbelly of these troubled places. He goes undercover to drink with narcos, accompanies police patrols, rides in trafficking boats and hides out with a gang informer. The result is an unforgettable portrait of a region of fear and a subtle analysis of the North American roots and reach of the crisis, helping to explain why this history of violence should matter to all of us.
Praise For A History of Violence: Living and Dying in Central America…
"Martínez dives into the underworld of his subjects, navigating barrios that police won't enter, spending days and nights with gang members. His methods resemble war reporting and his prose is cinematic … The collection's strength lies in his ability to write the hell out of his material. Like Katherine Boo's Behind the Beautiful Forevers and Adrian Nicole LeBlanc's Random Family, it skimps on statistics and analysis, instead relying on description alone to create a world that captures the reader and doesn't let her go. One of the stories, 'El Niño Hollywood's Death Foretold,' evokes Gabriel García Márquez's Chronicle of a Death Foretold. Like the beloved Colombian writer, Martínez pens scenes that are suspenseful, moving, and vivid."
—New Republic

"Martínez is a gifted storyteller with an astute, observant eye and a voice that beckons to be followed … A History of Violence is a necessary read, especially for US government officials crafting immigration policy against migrants and refugees from the region. It sheds light on why so many are braving the treacherous trek through Mexico to reach the United States."
—Los Angeles Review of Books

"Martínez's credentials for writing about this ignored human tide are impeccable: his first book, The Beast, drew on eight trips clinging to the roof of the infamous migrants' train through Mexico, chronicling their desperation in grippingly graphic detail. His new book, A History of Violence, takes a step back to explore what the migrants heading to the US are running away from … the unflinching cameos it paints offer a chilling portrait of corruption, unimaginable brutality and impunity."
—Financial Times

"If you take just one book to Central America on holiday, don't pick this one. Oscar Martinez has written a punishing account of the lives of the poor in Guatemala, Honduras and El Salvador. Melding acuity and anger, he unveils the scary realities of organised crime … Mr Martinez deserves credit for bringing it so effectively to life."
—Economist

"As the current wave of US Immigration and Customs raids authorised by President Obama deports Latino migrants, and Donald Trump boosts his election campaign with promises to build a wall along the US–Mexican border, Martínez endeavours to explain why, for many Central Americans of the northern triangle, returning home is a death sentence."
—Independent

"Ripped from the headlines, these are powerful stories of Central America's chaotic and bloody present, sure to raise awareness among a broad audience of North Americans, whom Martínez refuses to let off the hook. 'The solution?' he asks. 'It's up to you.'"
—Library Journal

"In Spanish, the tradition of the crónica is in-depth testimonial reportage blended with personal essay, and Martínez is a worthy inheritor. Martínez's work conveys an intimate knowledge of the social and criminal ecosystem—both macro-level context and telling minutiae. But because he isn't afraid to follow dangerous paths, the result are jewels with moments of intense emotion presented against a historical background that contemplates military, social, economic, religious, psychosclogical and all sorts of other factors … I am in awe of Martínez's commanding style. "
—Ilan Stavans, In These Times

"El Salvador's best chronicler of this profound crisis is Óscar Martínez, a journalist based in San Salvador. Martínez has dedicated his career to documenting how the matrix of poverty, instability, and narcotrafficking has transformed the lives and prospects of Central Americans. As a writer, he's a committed, old-school social realist, and traveled with migrants on their deadly northward route for his previous book about Central American migration, The Beast. His methods in A History of Violence are equally painstaking."
—Caille Millner, New Inquiry

"Agonizing stories … [Martínez] urges readers to understand what Central Americans are going through and what compels them to seek refuge in the United States."
—Ramón Rentería, El Paso Times

"Dives deep to the problems driving the region's violence and impunity … If The Beast was a look at the dangers of the journey, A History of Violence focuses on why people take it to begin with."
—Jared Goyette, PRI's The World

"Succeeds in fostering a better understanding of Central America's crisis of violence and the resulting surge in migration. By itself, such understanding cannot bring about the peaceful future that Martínez clearly hopes for. But if his work raises greater awareness of the situation in the region, and spurs at least some readers into action, it will have accomplished its purpose. A History of Violence is a timely publication, and not only because of the ongoing exodus from the isthmus. The new US president's policy agenda portends to have an unprecedented impact on migration and security policies in the Western Hemisphere. The ability to step back, reflect, and stand with vulnerable populations suddenly seems more critical than Martínez may have imagined when he penned these chronicles."
—Sonja Wolf, Current History

"In this collection, Martinez, a journalist whose acerbic prose enlivens its dire subjects, covers stories that illuminate why so many Central Americans are willing to risk their lives to cross the border to the United States (and why, instead of calling them illegal or undocumented, we should be calling them refugees)."
—Mauro Javier Cardenas, The Millions

"A History of Violence is not simply about storytelling, and despite the gruesome subject matter, is certainly not sensationalist journalism … Óscar Martínez is a passionately engaged reporter who goes under the surface to get to the truth."
—Ramor Ryan, TeleSur

"No place is dangerous enough to quell Martínez's hunger for the truth, as the intrepid newshound sniffs around in occupied prisons, grim police stations, hellish whorehouses, desolate crack dens, isolated ranches and battered barrios, all the locales omitted from the tourism brochures. To understand how corruption operates in Central America, Martínez goes to where it operates … gritty journalism."
—Hector Luis Alamo, Latino Rebels

"Reading Salvadoran journalist Óscar Martínez's nonfiction portrait of violence in Central America, it seems fantastically lucky for all of us that he's still alive … The reporting is an act of courage; the book is a plea for comprehension of the terror that drives people from Central America to the United States … Martínez's portrait of Central America as killing field is a plea not only for comprehension of immigrants' race for the border but also for empathy."
—Nancy Nusser, Texas Observer

"Martínez draws readers into this complex narrative by alternating between a panoramic social sweep and the beleaguered lives of civilians, victims, gang members, and cops, capturing the multilayered nature of a place whose indigenous traditions are being brutalized by modern criminals who commit murder casually … Smart, angry immersive journalism from an author who warrants wider readership on this side of the border."
—Kirkus

"Martínez tenaciously reports piece by piece on the accretion of gang-related violence besetting El Salvador, Honduras, and Guatemala … Martínez's reporting reveals shocking failures of the state—particularly of police and courts—but he avoids tidy lessons, preferring to let the intractable issues stand in all their cold brutality."
—Publishers Weekly

"A History of Violence … stays close to the lives of gang members, victims of violence, and the quixotic public officials who try to offer some answers in El Salvador, Honduras, and Guatemala … Martínez avoids the literature's usual magnification of criminals' power and pays attention to the fluid alliances and personal relations that determine, as one Honduran intelligence office puts it, 'who's in charge now.'"
—Pablo Piccato, Public Books

"A haunting portrait of a tragic, complicated part of the world."
—Shelf Awareness
Verso, 9781784781712, 288pp.
Publication Date: April 11, 2017
About the Author
Óscar Martínez is the author of The Beast: Riding the Rails and Dodging Narcos on the Migrant Trail. He writes for El Faro, the first online newspaper in Latin America.