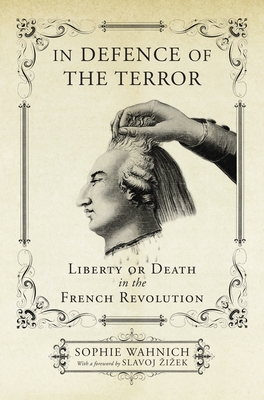 In Defence of the Terror
Liberty or Death in the French Revolution
Paperback

* Individual store prices may vary.
Other Editions of This Title:
Hardcover (8/7/2012)
Description
For two hundred years after the French Revolution, the Republican tradition celebrated the execution of princes and aristocrats, defending the Terror that the Revolution inflicted upon on its enemies. But recent decades have brought a marked change in sensibility. The Revolution is no longer judged in terms of historical necessity but rather by "timeless" standards of morality. In this succinct essay, Sophie Wahnich explains how, contrary to prevailing interpretations, the institution of Terror sought to put a brake on legitimate popular violence—in Danton's words, to "be terrible so as to spare the people the need to be so"—and was subsequently subsumed in a logic of war. The Terror was "a process welded to a regime of popular sovereignty, the only alternatives being to defeat tyranny or die for liberty."
Praise For In Defence of the Terror: Liberty or Death in the French Revolution…
"We were not waiting merely for a book like this; this is the book we were waiting for."
—Slavoj Žižek, from the foreword

"A bold reconstruction of the emotions that drove the French revolutionaries to terror … [Wahnich's] premise is that dismissive disgust at blood spilt and life lost is an edifying but overly simplistic and apolitical response to revolution past and present."
—Guardian

"Our default position has become one of lazy dismissal: with all of the blood and brutality, how could we, why would we, want to consider the Terror as anything but a horror show? … Wahnich's subversive reflection is that far from taking lives, the Terror was actually about saving them."
—Jacobin

"Sophie Wahnich illuminates the origins of the French revolutionary terror in an effort to help us to think clearly about the relationships between revolution, violence and terror in general."
—Times Higher Education

"In Defence of the Terror is a provocative and compelling essay, well written and impressively concise, with a good mix of contemporary resonance and archival detail."
—Peter Hallward

"An intriguing take on modern social issues and history."
—The Midwest Book Review

"In this portable study, Wahnich (the Laboratory of the Anthropology of Institutions and Social Organizations, France) goes against current historical interpretations of the Jacobin Terror of the French Revolution when she says that the Terror was a precisely planned and controlled attempt to prevent further violence by the public. She also compares the French revolutionary Terror with recent fundamentalist terrorism."
—Book News
Verso, 9781784782023
Publication Date: January 5, 2016
About the Author
Sophie Wahnich is a historian based at the Laboratoire d'anthropologie des institutions et des organisations sociales in Paris. Her previous publications include L'impossible citoyen. L'étranger dans le discours dela Révolution française and La Longue patience du peuple: 1792, naissancede la République.

Slavoj Žižek is a Slovenian philosopher and cultural critic. He is a professor at the European Graduate School, International Director of the Birkbeck Institute for the Humanities, Birkbeck College, University of London, and a senior researcher at the Institute of Sociology, University of Ljubljana, Slovenia. His books include Living in the End Times, First as Tragedy, Then as Farce, In Defense of Lost Causes, four volumes of the Essential Žižek, and many more.
or
Not Currently Available for Direct Purchase