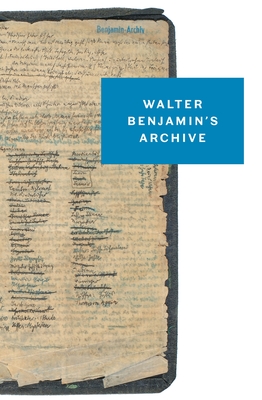 Walter Benjamin's Archive (Paperback)
Images, Texts, Signs
Verso, 9781784782030, 320pp.
Publication Date: September 15, 2015
Other Editions of This Title:
Hardcover (12/17/2007)
Paperback, French (9/15/2011)
* Individual store prices may vary.
Description
An absorbing selection of Walter Benjamin's personal manuscripts, images, and documents

The work of the great literary and cultural critic Walter Benjamin is an audacious plotting of history, art, and thought; a reservoir of texts, commentaries, scraps, and fragments of everyday life, art, and dreams. Throughout his life, Benjamin gathered together all kinds of artifacts, assortments of images, texts, and signs, themselves representing experiences, ideas, and hopes, each of which was enthusiastically logged, systematized, and analyzed by their author. In this way, Benjamin laid the groundwork for the salvaging of his own legacy.

Intricate and intimate, Walter Benjamin's Archive leads readers to the heart of his intellectual world, yielding a rich and detailed portrait of its author.
About the Author
Walter Benjamin was a German-Jewish Marxist literary critic, essayist, translator, and philosopher. He was at times associated with the Frankfurt School of critical theory and is the author of Illuminations, The Arcades Project, and The Origin of German Tragic Drama.

Esther Leslie is a lecturer in English and Humanities at Birkbeck College, London. She is the author of Walter Benjamin: Overpowering Conformism and sits on the editorial boards of Historical Materialism, Radical Philosophy and Revolutionary History.
Praise For Walter Benjamin's Archive: Images, Texts, Signs…
"Esther Leslie's translation reveals that no thought should go un-noted"
—Peter Conrad, Guardian

"This Archive is an object to treasure and has the aura of a reliquary, but Benjamin is no saint. Hidden within this small selection is a profaning giant whom we are only beginning to see."
—Independent

"Enchanting."
—Times Literary Supplement

"The most important German aesthetician and literary critic of the twentieth century."
—George Steiner

"Elegantly brings together the materials of Benjamin's bequest and reminds us of what his friend Theodor Adorno rightly said was its greatest significance for subsequent thinking."
—Frieze

"Charming and beautifully produced."
—Ray Monk, New Statesman