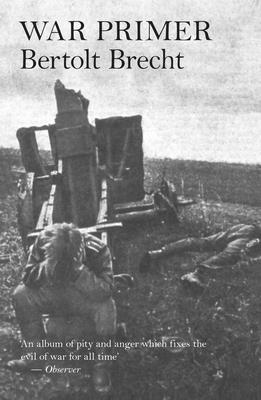 War Primer (Paperback)
Verso, 9781784782085, 112pp.
Publication Date: May 2, 2017
* Individual store prices may vary.
Description
A terrifying series of short poems by one of the world's leading playwrights, set to images of World War II

In this singular book written during World War Two, Bertolt Brecht presents a devastating visual and lyrical attack on war under modern capitalism.

He takes photographs from newspapers and popular magazines, and adds short lapidary verses to each in a unique attempt to understand the truth of war using mass media.

Pictures of catastrophic bombings, propaganda portraits of leading Nazis, scenes of unbearable tragedy on the battlefield — all these images contribute to an anthology of horror, from which Brecht's perceptions are distilled in poems that are razor-sharp, angry and direct.

The result is an outstanding literary memorial to World War Two and one of the most spontaneous, revealing and moving of Brecht's works.
About the Author
Bertolt Brecht (1898–1956) was a German poet, playwright and theatre director. One of his country's most famous writers, he was forced into exile in 1933, returning from the United States to Switzerland in 1947, and to East Berlin in 1949. Some of his most famous plays are The Threepenny Opera, Mother Courage, Life of Galileo and The Caucasian Chalk Circle.
Praise For War Primer…
"An album of pity and anger which fixes the evil of war for all time."
—Observer

"A handsome edition of War Primer, a series of short poems illustrated and inspired by war photographs Brecht clipped from newspapers."
—David Edgar, London Review of Books

"Tender, angry and incisive."
—Independent

"A modern equivalent of Goya."
—Guardian

"Brecht reprinted photographs from wartime mass-circulation magazines, replacing the captions with short poems about the essential truth of each image."
—Daily Telegraph

"Deserves a place of the shelves of every public and school library."
—Times Literary Supplement

"By themselves the images are disturbing, often terrifying. The four lines of poetry make them devastating. They achieve this through what was Brecht's greatest strength as a writer: his ability to coax out the twisted, icy rationale of a world whose overriding logic is self-justification. The bitter chuckle brought on in the reader by these words reveals unsettling machinations. War, capital and fascism are made mundane before that very mundanity is turned inside out by dint of its own force."
—Alexander Billet, Red Wedge