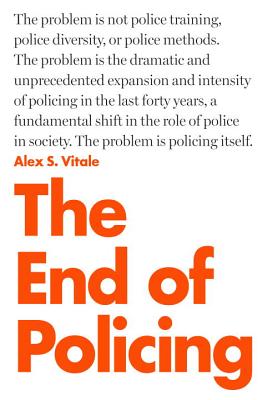 The End of Policing
Hardcover

* Individual store prices may vary.
Other Editions of This Title:
Digital Audiobook (4/8/2019)
Paperback (12/7/2021)
Paperback (8/28/2018)
MP3 CD (4/9/2019)
Compact Disc (4/9/2019)
Description
How the police endanger us and why we need to find an alternative
Recent years have seen an explosion of protest against police brutality and repression—most dramatically in Ferguson, Missouri, where longheld grievances erupted in violent demonstrations following the police killing of Michael Brown. Among activists, journalists, and politicians, the conversation about how to respond and improve policing has focused on accountability, diversity, training, and community relations. Unfortunately, these reforms will not produce results, either alone or in combination. The core of the problem must be addressed: the nature of modern policing itself. "Broken windows" practices, the militarization of law enforcement, and the dramatic expansion of the police's role over the last forty years have created a mandate for officers that must be rolled back.

This book attempts to spark public discussion by revealing the tainted origins of modern policing as a tool of social control. It shows how the expansion of police authority is inconsistent with community empowerment, social justice—even public safety. Drawing on groundbreaking research from across the world, and covering virtually every area in the increasingly broad range of police work, Alex Vitale demonstrates how law enforcement has come to exacerbate the very problems it is supposed to solve.

In contrast, there are places where the robust implementation of policing alternatives—such as legalization, restorative justice, and harm reduction—has led to reductions in crime, spending, and injustice. The best solution to bad policing may be an end to policing.
Praise For The End of Policing…
"The End of Policing combines the best in academic research with rhetorical urgency to explain why the ordinary array of police reforms will be ineffective in reducing abusive policing. Alex Vitale shows that we must move beyond conceptualizing public safety as interdiction, exclusion, and arrest if we hope to achieve racial and economic justice."
—Ruth Wilson Gilmore, Professor, CUNY Graduate Center, Co-Founder of Critical Resistance, author of Golden Gulag

"Deeply researched, but also vibrantly and accessibly written, The End of Policing is essential reading for anyone wishing to understand the dire state of policing today. Alex Vitale shows compellingly that as long as we ask the police to shore up a fundamentally unequal and dysfunctional social order, superficial 'reforms' won't do much to help. And he offers concrete alternatives aimed at restoring communities and getting police out of the business of trying to contain social problems that they cannot—and should not—control."
—Elliott Currie, Professor, University of California, Irvine, author of Crime and Punishment in America

"An extremely vital book on policing. Should be assigned at all police academies. If only the Philando Castile jurors had read this."
—Jeffrey Fagan, Director of Columbia Law School's Center for Crime, Community, and Law

"Challenging standard accounts of how to reform policing, Alex Vitale argues that true safety demands directing resources away from police and prisons and towards economic development, education, and drug treatment. Urgent, provocative, and timely, The End of Policing will make you question most of what you have been taught to believe about crime and how to solve it."
—James Forman Jr., Professor, Yale Law School and author of Locking Up Our Own: Crime and Punishment in Black America

"In a tightly constructed monograph filled with reform suggestions, Vitale decries the evolution of police agencies as tools of the white establishment to suppress dissatisfaction among the have-nots. A clearly argued, sure-to-be-controversial book."
—Kirkus

"In a chapter on each issue, Vitale sets out the problem in depth, explores the liberal view of reforms that seek only to remove the worst excesses of police conduct and to restore the legitimacy of using force in the interests of society, and then offers ideas for alternatives."
—The Network for Police Monitoring

"Vitale's amassing of trenchant facts into an enticing intellectual framework makes The End of Policing a must-read for anyone interesting in waging and winning the fight for economic and social justice."
—Michael Hirsch, Indypendent

"The End of Policing is that holiday argument book, the relatively brief stack of facts you can hand to a relative who still talks about those nice guys who helped out with the flat tire and doesn't see why any lives have to matter more than they already do. A thorough rinsing of the American criminal justice system."
—Sasha Frere-Jones, 4 Columns

"The End of Policing's great strength lies in demonstrating that if the shape of American policing is historical, it is also contingent. We could have made different choices regarding how we set about securing the public against the array of threats that confront it, and—refreshingly, at this moment of general despair—Vitale believes we still can."
—Adam Greenfield, Los Angeles Review of Books

"Offers a compelling digest of the dynamics of crime and law enforcement, and a polemic against the militarization of everything. Vitale calls for a dismantling of our very notion of the police: a sprawling, untethered bureaucracy permitted to use lethal force and unaccountable to the people."
—E. Tammy Kim, Nation

"Unfortunately, neither increased diversity in police forces nor body cameras nor better training make any seeming difference. We need to restructure our society and put resources into communities themselves, an argument Alex Vitale makes very persuasively."
—Rachel Kushner, author of The Flamethrowers

"A welcome challenge to reformist thinking and a powerful argument against social and economic injustice, inequality and racism."
—London School of Economics Review of Books

"Suggests a radical alternative that, on the one hand, abolishes corrupt and lethal police policies designed to contain the racialised poor and, on the other, develops and sustains safer communities."
—Race & Class

"A welcome challenge to reformist thinking and a powerful argument against social and economic injustice, inequality and racism."
—LSE Review of Books

"Offers a convincing argument that the traditional roles played by police forces have been largely counter-productive."
—Morning Star

"A compelling critique of modern policing."
—Peter Stauber, Counterfire
Verso, 9781784782894, 272pp.
Publication Date: October 10, 2017
About the Author
Alex S. Vitale is Professor of Sociology at Brooklyn College and coordinator of the Policing and Social Justice Project there. He has spent the last 25 years writing about policing and consults both police departments and human rights organizations internationally. He is also a frequent essayist, whose writings have appeared in the New York Daily News, New York Times, Nation, Gotham Gazette, and New Inquiry.
or
Not Currently Available for Direct Purchase