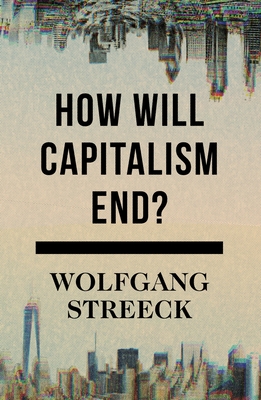 How Will Capitalism End?
Essays on a Failing System
Hardcover

* Individual store prices may vary.
Other Editions of This Title:
Paperback (11/14/2017)
Description
Voted one of the "Best Books of the Year" by Times Higher Education, Guardian, and Financial Times

A major collection of essays that asks if contemporary capitalism will end with a bang or a whimper—from the provocative political thinker behind Buying Time

After years of ill health, capitalism is now in a critical condition. Growth has given way to stagnation; inequality is leading to instability; and confidence in the money economy has all but evaporated.

In How Will Capitalism End?, the acclaimed analyst of contemporary politics and economics Wolfgang Streeck argues that the world is about to change. The marriage between democracy and capitalism, ill-suited partners brought together in the shadow of World War II, is coming to an end. The regulatory institutions that once restrained the financial sector's excesses have collapsed and, after the final victory of capitalism at the end of the Cold War, there is no political agency capable of rolling back the liberalization of the markets.

Ours has become a world defined by declining growth, oligarchic rule, a shrinking public sphere, institutional corruption and international anarchy, and no cure to these ills is at hand.
Praise For How Will Capitalism End?: Essays on a Failing System…
"This collection will be at the centre of social research for years to come."
—Times Higher Education ("Books of the Year 2016")

"As the economic gloom deepens to the pitch black night of geopolitical crisis, in the economics departments of the world there can still be heard the confident chuckle: 'but capitalism always survives.' How Will Capitalism End? is an extended riff on the possibility of the mainstream economists being wrong. Streeck synthesises the various strands of left crisis theory into a convincing proposal."
—Guardian ("Best Books of 2016")

"Democratic capitalism is in bad shape. The crisis of 2007–09 and subsequent election of Donald Trump demonstrate that. In this book, German sociologist Streeck argues that capitalism is doomed, as many have before. But he does not believe it will be replaced by something better. Instead a new Dark Ages lies ahead."
—Financial Times ("Best Books of 2016")

"Streeck's title question—though never answered—opens a window onto the conflict between capitalism and democracy in the neoliberal era. That such a conflict exists is no surprise in Brazil, and still hidden to many in the United States, but a rude and inescapable shock to those who grew up with the comfortable illusions and utopian hopes of post-war Europe."
—James Galbraith, author of The End of Normal

"Neoliberalism continues to delimit political choice across the globe yet it is clear that the doctrine is in severe crisis. In Wolfgang Streeck's powerful new book How Will Capitalism End? Streeck demonstrates that the maladies afflicting the world—from secular stagnation to rising violent instability—herald not just the decline of neoliberalism, but what may prove to be the terminal phase of global capitalism."
—Paul Mason, author of Postcapitalism

"The most interesting person around today on the subject of the relationship between democracy and capitalism."
—Christopher Bickerton, University of Cambridge

"At the heart our era's deepening crisis there lies a touching faith that capitalism, free markets and democracy go hand in hand. Wolfgang Streeck's new book deconstructs this myth, exposing the deeply illiberal, irrational, anti-humanist tendencies of contemporary capitalism."
—Yanis Varoufakis, author of And the Weak Suffer What They Must?

"An important and stimulating book. It is especially interesting in the light of fashionable preoccupations with secular stagnation, the march of robots and the lamentable performance of most leading economies since the onset of the financial crisis."
—William Keegan, author of Mr Osborne's Economic Experiment

"The most interesting person on the most urgent subject of our times."
—Aditya Chakrabortty, Guardian

"Streeck writes devastatingly and cogently … How Will Capitalism End? provides not so much a … forecast as a warning."
—Martin Wolf, Financial Times

"Offers a powerful prognosis that predicts that the system will suffer a lingering death rather than go out with a bang … there are so many startling formulations of great analytic power in this book that it merits wide circulation in these troubled times."
—Morning Star

"Streeck has become one of Europe's most sophisticated and pessimistic left-wing Euroskeptics …[his] criticism of the eurozone is powerful."
—Jamie Martin, Bookforum

"Not one to embrace the 'voluntaristic illusions' of 'we the people,' Streeck sees such fantasies as part of a deeper structural crisis … Neoliberalism, in fragmenting workers and consumers into desperately precarious personal brands, has made mass organization effectively impossible, while traditional political channels have been systematically choked off. Capitalism, therefore, won't be overthrown. It will kill itself through its own power to overcome the restraints that bind it."
—Greg Afinogenov, n+1
Verso, 9781784784010, 272pp.
Publication Date: November 29, 2016
About the Author
Wolfgang Streeck is the Director of the Max Planck Institute for Social Research in Cologne and Professor of Sociology at the University of Cologne. He is an Honorary Fellow of the Society for the Advancement of Socio-Economics and a member of the Berlin Brandenburg Academy of Sciences as well as the Academia Europaea. His previous books include Buying Time: The Delayed Crisis of Democratic Capitalism.
or
Not Currently Available for Direct Purchase