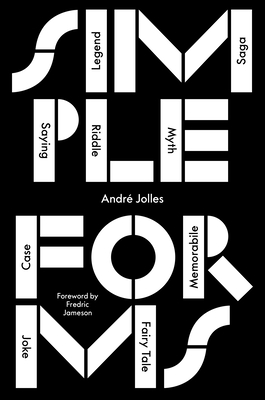 Simple Forms (Paperback)
Legend, Saga, Myth, Riddle, Saying, Case, Memorabile, Fairytale, Joke
Verso, 9781784784935, 272pp.
Publication Date: January 31, 2017
* Individual store prices may vary.
Description
A seminal text in literary theory available in English for the first time

Legend, saga, myth, riddle, saying, case, memorabile, fairy tale, joke: André Jolles understands each of these nine "simple forms" as the reflection in language of a distinct mode of human engagement with the world and thus as a basic structuring principle of literary narrative. Published in German in 1929 and long recognized as a classic of genre theory, Simple Forms is the first English translation of a significant precursor to structuralist and narratological approaches to literature. Like Vladimir Propp's Morphology of the Folktale, with which it is often compared, Jolles's work is not only foundational for the later development of genre theory but is of continuing relevance today. A major influence on literary genre studies since its publication, Simple Forms is finally available in English.
About the Author
André Jolles (1874–1946) taught Art History, Archaeology, Cultural History and Netherlandic and Comparative Literature in Berlin, Ghent and Leipzig.
Praise For Simple Forms: Legend, Saga, Myth, Riddle, Saying, Case, Memorabile, Fairytale, Joke…
"Jolles extended a formal curiosity and intellectual generosity that critics otherwise would only accord to works by established geniuses of the Western canon … Simple Forms speaks to us with surprising directness and insight."
—Los Angeles Review of Books

"A fundamental contribution to the endless, contentious, productive dialogue between morphology and history. André Jolles, the interlocutor of Aby Warburg and Johan Huizinga, is still provoking us with his work. The long overdue translation of a classic."
—Carlo Ginzburg

"Simple Forms can be counted among the standard works of scholarship."
—Hans-Georg Gadamer

"Jolles's versatility was an inevitable result of his extraordinary receptivity and omnivorous interest in all aspects of the study of art and culture and of his talent for absorbing and processing things, and for combining disparate material."
—Johan Huizinga

"The book is a wonderful example of the very possibility of doing theory—just theory, only theory—in the field of narrative, regardless of the current temptation to rethink theory in terms of easily marketable toolkits. Highly thought-provoking."
—Jan Baetens, Critical Inquiry

"It is a cause for celebration to have Jolles's classic Simple Forms in English … a great book, always stimulating, and exhilarating in its speculative leaps, its shrewd insights, its wilder guesses."
—Fredric Jameson, from the Foreword