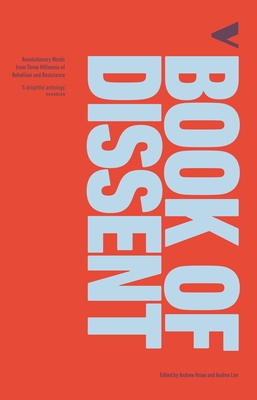 The Verso Book of Dissent
Revolutionary Words from Three Millennia of Rebellion and Resistance
Paperback

* Individual store prices may vary.
Other Editions of This Title:
Paperback (6/16/2020)
Paperback (11/8/2010)
Description
Fully updated compendium of revolt and resistance

Throughout the ages and across every continent, people have struggled against those in power and raised their voices in protest-rallying others around them or, sometimes, inspiring uprisings many years later. Their echoes reverberate from Ancient Greece, China and Egypt, via the dissident poets and philosophers of Islam and Judaism, through to the Arab slave revolts and anti-Ottoman rebellions of the Middle Ages. These sources were tapped during the Dutch and English revolutions at the outset of the Modern world, and in turn flowed into the French, Haitian, American, Russian and Chinese revolutions. More recently, resistance to war and economic oppression has flared up on battlefields and in public spaces from Beijing and Cairo to Moscow and New York City.

This anthology, global in scope, presents voices of dissent from every era of human history: speeches and pamphlets, poems and songs, plays and manifestos. Every age has its iconoclasts, and yet the greatest among them build on the words and actions of their forerunners. The Verso Book of Dissent should be in the arsenal of every rebel who understands that words and ideas are the ultimate weapons.
Praise For The Verso Book of Dissent: Revolutionary Words from Three Millennia of Rebellion and Resistance…
"The Verso Book of Dissent shows the many ways in which the constant struggle to create a better world has broken through the walls of apathy and acquiescence."
—Noam Chomsky

"A delightful anthology to dip into if you are or have ever been disgruntled with the status quo … for radicals everywhere."
—Nick Lezard, Guardian

"A very right-on compendium of opposition to authority."
—Gavin Bowd, Scotland on Sunday

"Reading the [The Verso Book of Dissent] is like encountering the best version of our angry selves."
—Jonathan Messinger, Time Out Chicago

"A near-definitive anthology."
—Richard Whittaker, Austin Chronicle

"The anthology's editors excerpt the writings of a wide array of historical figures, including Socrates … Martin Luther King … [and] the Marquis de Sade."
—National

"An anthology of quotes and excerpts to commemorate Verso's 40th anniversary."
—Todd Gitlin, Chronicle of Higher Education

"A unique anthology."
—Kaleidoscope

"Almost a Leftist coffee-table book … a good gift for budding activists and writers."
—Global Comment

"This anthology presents voices of dissent from throughout history and across the globe: speeches and pamphlets, poems and songs, plays and manifestos, demonstrating that words and ideas are the ultimate weapons."
—Greenlight Books
Verso, 9781784786175, 400pp.
Publication Date: November 8, 2016
About the Author
Andrew Hsiao and Audrea Lim are editors at Verso Books.

Tariq Ali is the author of The Extreme Centre, Pirates of the Caribbean, The Clash of Fundamentalisms, and The Islam Quintet.
or
Not Currently Available for Direct Purchase