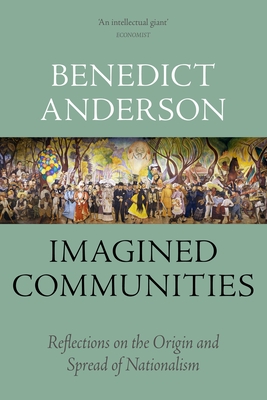 Imagined Communities
Reflections on the Origin and Spread of Nationalism
Paperback

* Individual store prices may vary.
Other Editions of This Title:
Digital Audiobook (3/4/2012)
MP3 CD (3/5/2012)
Compact Disc (3/5/2012)
Paperback (11/1/2006)
Description
This "sparkling" and world-famous work examines what drives people to live, die, and kill in the name of nations—revealing the surprising origins and development of nationalism (The Guardian)

The full magnitude of Benedict Anderson's intellectual achievement is still being appreciated and debated. Imagined Communities remains the most influential book on the origins of nationalism, filling the vacuum that previously existed in the traditions of Western thought. Cited more often than any other single English-language work in the human sciences, it is read around the world in more than thirty translations.

Written with exemplary clarity, this illuminating study traces the emergence of community as an idea to South America, rather than to nineteenth-century Europe. Later, this sense of belonging was formed and reformulated at every level, from high politics to popular culture, through print, literature, maps and museums. Following the rise and conflict of nations and the decline of empires, Anderson draws on examples from South East Asia, Latin America and Europe's recent past to show how nationalism shaped the modern world.
Praise For Imagined Communities: Reflections on the Origin and Spread of Nationalism…
"One of the greatest … deserves still to be central to our thinking about the world."
—T. J. Clark, London Review of Books

"Anderson's work stands as an inspiration not only to his students, his readers, and all those whose lives have been affected by his work, but also to all those who reject the false choice between politics and scholar¬ship, and who seek to live accordingly."
—Nation

"Anderson transformed the study of nationalism … and was renowned not only for his theoretical contributions but also for his detailed examinations of language and power in Indonesia, Thailand and the Philippines."
—New York Times

"Far and away the most influential study of nationalism … As well-versed in novels and poetry as he was in scholarship, Anderson was an eloquent advocate for global culture."
—Jeet Heer, New Republic

"Everything Anderson wrote was boldly original … He was never content to tell an audience what they wanted to hear."
—Anthony Reid, Guardian

"This is a book to be owned and read, re-read, and treasured."
—Academic Library Book Review

"Anderson's knowledge of a vast range of relevant historical literature is most impressive; his presentation of the gist of it is both masterly and lucid."
—Edmund Leach, New Statesman

"Everything Anderson wrote was boldly original … He was never content to tell an audience what they wanted to hear."
—Anthony Reid, Guardian

"A brilliant little book."
—Neal Ascherson, Observer

"Sparkling, readable, densely packed."
—Peter Worsley, Guardian
Verso, 9781784786755, 256pp.
Publication Date: September 13, 2016
About the Author
Benedict Anderson was Aaron L. Binenkorp Professor of International Studies Emeritus at Cornell University. He was Editor of the journal Indonesia and author of numerous books including A Life Beyond Boundaries, Java in a Time of Revolution, The Spectre of Comparisons: Nationalism, Southeast Asia, and the World and The Age of Globalization: Anarchists and the Anticolonial Imagination.