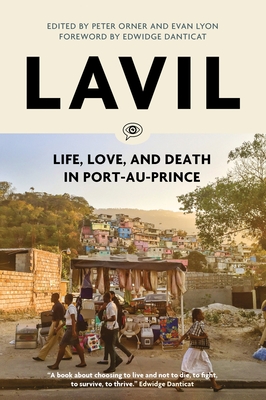 Lavil (Paperback)
Life, Love, and Death in Port-au-Prince
Verso, 9781784786823, 336pp.
Publication Date: May 23, 2017
Other Editions of This Title:
Library Binding (8/22/2017)
* Individual store prices may vary.
Description
Moving stories of life in a country enduring an ongoing crisis
Seven years after the deadliest earthquake in the history of the Western Hemisphere struck Haiti, the island nation remains in crisis, all but ignored by the international community. At the center of this crisis is Lavil—"The City" in Kreyol, as Port-au-Prince is known to Haitians—the cultural, political, and economic capital of Haiti and home to over 2.5 million resilient souls.

This immersive and engrossing oral history collection gives voice to the continuing struggle of Haitian people to live, love and prosper while trying to rebuild their city and country after disasters both natural and man-made.

Among the narrators:
Juslene, who moved to Port-au-Prince as a child for educational opportunities but was instead forced to work as a restavek—an unpaid servant—and who maintains unwavering hope despite the loss of her family when the city was destroyed.
Johnny and Denis, a teacher and his younger brother, who spent years hustling for work and looking out for each other in one of the city's sprawling post-earthquake tent camps.
Lamothe, a wry and well-read expert on Haiti's clean water crisis, who is one of the many Port-au-Prince citizens dedicated to rebuilding his city and nation.
About the Author
Peter Orner edited Voice of Witness titles Underground America and co-edited Hope Deferred, and is the author of four books of fiction, including the novels The Second Coming of Mavala Shikongo and Love and Shame and Love. His most recent book, Last Car Over the Sagamore Bridge, was a New York Times Editor's Choice and named a Favorite Book of 2013 by the Wall Street Journal.

Dr. Evan Lyon has worked in Haiti since 1996 and is currently the Chief Integrated Health Officer at Heartland Health Outreach in Chicago. Through his work with Partners in Health, Lyon has helped community-based responses to address HIV, tuberculosis and broader public health concerns throughout Haiti. He has also frequently collaborated with Paul Farmer on articles related to social medicine and human rights.


Praise For Lavil: Life, Love, and Death in Port-au-Prince…
"A book about choosing to live and not to die, to fight, to survive, to thrive."
—Edwidge Danticat

"Nothing is more eloquent than the voice of those who endure and try valiantly to survive."
—Noam Chomsky

"Lavil brings to the fore the voices of the people of the wounded city of Port-au-Prince … these stories are redolent of both pride and fears of an uncertain future."
—Paul Farmer, author, Haiti After the Earthquake

"Lavil is a powerful collection of testimonies, which include tales of violence, poverty, and instability but also joy, hustle, and the indomitable will to survive."
—Vice

"Lavil is not just a recitation of complaint and tragedy, though those are certainly included within it. It provides, instead, a chorus of stubborn and lively persistence—of a kind one can usually only imagine."
—Amy Wilentz, Los Angeles Review of Books