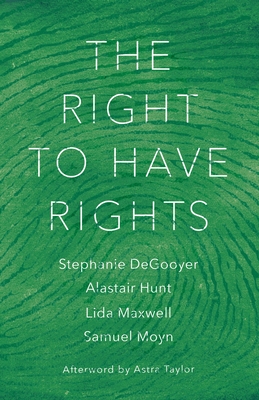 The Right to Have Rights
Hardcover

* Individual store prices may vary.
Other Editions of This Title:
Paperback (1/21/2020)
Description
Five leading thinkers on the concept of 'rights' in an era of rightlessness
Sixty years ago, the political theorist Hannah Arendt, an exiled Jew deprived of her German citizenship, observed that before people can enjoy any of the "inalienable" Rights of Man—before there can be any specific rights to education, work, voting, and so on—there must first be such a thing as "the right to have rights." The concept received little attention at the time, but in our age of mass deportations, Muslim bans, refugee crises, and extra-state war, the phrase has become the center of a crucial and lively debate. Here five leading thinkers from varied disciplines—including history, law, politics, and literary studies—discuss the critical basis of rights and the meaning of radical democratic politics today.
Praise For The Right to Have Rights…
"Hannah Arendt has captured the contemporary imagination by so often refusing orthodoxy, and also defying the rules and strictures of political theory. The Right to Have Rights continues these traditions, taking up one of her most disruptive ideas—'the right to have rights'—and assigning a different author to unpack each of its constituent elements. The result is a marvelous deconstruction of a vexing concept, and a wonderful new way of doing theory. At once idiosyncratic and informative, personal and impersonal, The Right to Have Rights has a gravitational pull that is nearly as irresistible as the work of Arendt herself."
—Corey Robin, author of The Reactionary Mind: Conservatism from Edmund Burke to Donald Trump

"Verso has published an elegant little book of essays by four academics who endeavored not only to unpack the phrase but also to find interpretations that can inform and inspire resistance to the current worldwide assault on human rights."
—Masha Gessen, New Yorker

'The right to have rights' is evoked so frequently that it has become a cliché. This important collection restores to Arendt's idea its critical dimension: rights alone are an insufficient basis for democracy; rights alone provide no bulwark against forced migration, expropriation, and war. At a time when global capitalism simultaneously recognizes and disavows all manner of rights, these diverse and compelling essays clarify the stake of resistance."
—Jodi Dean, author of Crowds and Party

"Five strikingly original thinkers return to Hannah Arendt's account of the vulnerability of human beings denied membership in a polity. What can it mean to speak of a 'right to have rights' when citizenship is denied to some, eroded or undercut for others and, for still others, perverted into nationalism? These essays underscore the urgency of getting the questions right."
—Jedediah Purdy, author of After Nature: A Politics for the Anthropocene
Verso, 9781784787547, 160pp.
Publication Date: February 13, 2018
About the Author
Stephanie DeGooyer is Assistant Professor of English at Willamette University and Visiting Assistant Professor of English at Harvard University.

Alastair Hunt is Associate Professor of English at Portland State University.

Lida Maxwell is Associate Professor of Politics at Boston University.

Samuel Moyn is Henry R. Luce Professor of Jurisprudence and Professor of History at Yale University.

Astra Taylor is a writer, documentary filmmaker, and activist.
or
Not Currently Available for Direct Purchase