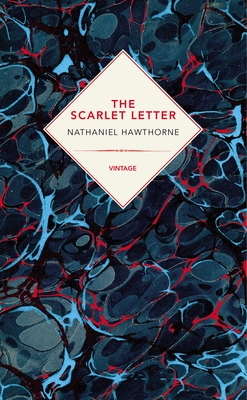 The Scarlet Letter (Vintage Classics) (Paperback)
Random House UK, 9781784871420, 274pp.
Publication Date: April 1, 2017
* Individual store prices may vary.
Description
Hester Prynne is a beautiful young woman. She is also an outcast. In the eyes of her neighbors she has committed an unforgivable sin. Everyone knows that her little daughter, Pearl, is the product of an illicit affair but no one knows the identity of Pearl's father. Hester's refusal to name him brings more condemnation upon her. But she stands strong in the face of public scorn, even when she is forced to wear the sign of her shame sewn onto her clothes: the scarlet letter "A" for "Adulteress".
About the Author
Nathaniel Hawthorne was born on 4th July 1804 in Salem, Massachusetts. One of his descendants was John Hathorne who presided over the Salem Witch Trials of 1692. Hawthorne's father died when he was four years old. He was educated at Bowdoin College where he became friends with the poet Henry Wadsworth Longfellow. He published his first novel, Fanshawe in 1828 and after this his stories began to appear in periodicals. He in 1842 and he and his wife Sophia went on to have three children. He published his most famous work, The Scarlet Letter, in 1850, and in that same year he became friends with the novelist Herman Melville. Melville later dedicated Moby Dick to Hawthorne. Between 1853 and 1860 he lived in Liverpool in England while he was working as an American consul, and then in Italy, before returning to his home in Concord, Massachusetts. Nathaniel Hawthorne died on 19th May 1864.
Praise For The Scarlet Letter (Vintage Classics)…
"An extraordinary work of the imagination that burns from page to page with the fierce simplicity of scripture and an almost cinematic clarity of vision. The Scarlet Letter is an astounding book full of intense symbolism, as strange and haunting as anything by Edgar Allan Poe." —Guardian
"Something might at last be sent to Europe as exquisite in quality as anything that had been received." —Henry James
"No facile answers are provided here. Hester is, after all, guilty; Pearl the 'Elfin' child, has devilish traits; the Puritans are given their due. Chillingworth and Dimmesdale are villains because of their hypocrisy but remain sympathetic because they are both self-destructive." —Independent
"A defiant adulteress; a community of hypocrites who force her to wear a scarlet letter A around her neck as a badge of her shame; an evil husband, secretly stoking the fires of their moral fervour until it reaches boiling point; and, finally, a stunning public confession in which the woman reveals the identity of her lover, who is then promptly sent to the gallows." —Sunday Times
"In making fiction out of the excesses of his Puritan ancestors, Hawthorne anticipated the technique of a modern movie-director. He was a master of crowd scenes." —Financial Times
or
Not Currently Available for Direct Purchase