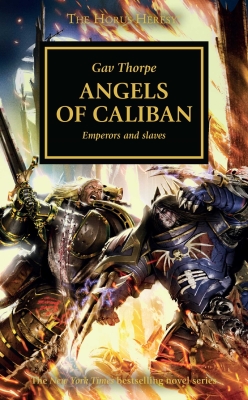 Angels of Caliban (The Horus Heresy #38) (Paperback)
Games Workshop, 9781784965372, 432pp.
Publication Date: December 26, 2017
* Individual store prices may vary.
Description
The Dark Angels Legion go to war, but their primarch's brutal actions threaten to tear apart the fragile alliance of Imperium Secundus.

With the Dark Angels spread across a hundred systems, primarch Lion El'Jonson stands as Lord Protector of Ultramar – though his true motives are known to few indeed, and old rivalries on his home world threaten to tear the Dark Angels Legion in half. But when word comes of the Night Lords' attack on Sotha, the Lion's brutal actions bring Imperium Secundus once again to the brink of civil war. Not even the most fearsome warriors of the Dreadwing, nor any arcane secret of the Order, can guarantee victory if he sets himself against his loyal brothers.
About the Author
Gav Thorpe is the author of the Horus Heresy novels Deliverance Lost, Angels of Caliban and Corax, as well as the novella The Lion, which formed part of the New York Times bestselling collection The Primarchs, and several audio dramas. He has written many novels for Warhammer 40,000, including Ashes of Prospero, Imperator: Wrath of the Omnissiah and the Rise of the Ynnari novels Ghost Warrior and Wild Rider. He also wrote the Path of the Eldar and Legacy of Caliban trilogies, and two volumes in The Beast Arises series. For Warhammer, Gav has penned the End Times novel The Curse of Khaine, the Warhammer Chronicles omnibus The Sundering, and much more besides. In 2017, Gav won the David Gemmell Legend Award for his Age of Sigmar novel Warbeast. He lives and works in Nottingham.