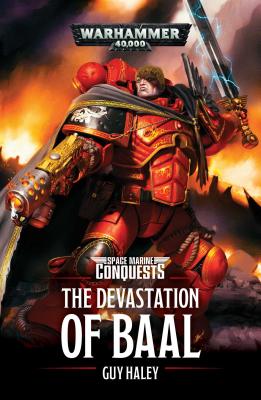 The Devastation of Baal (Space Marine Conquests #1) (Paperback)
Games Workshop, 9781784965938, 512pp.
Publication Date: November 28, 2017
* Individual store prices may vary.
Description
The Blood Angels Chapter and their successors mount a desperate defence of their home world of Baal from the predations of the tyranid hive fleet Leviathan.

After a brutal campaign in the Cryptus System fighting the alien tyranids, Lord Dante returns to Baal to marshal the entire Blood Angels Chapter and their Successors against Hive Fleet Leviathan. Thus begins the greatest conflict in the history of the sons of Sanguinius. Despite a valiant battle in the void around Baal, the Blood Angels are unable to stop the tyranids drawing ever closer, but their petitions for reinforcements are met with dread news. The Cadian Gate, the Imperium's most stalwart bastion against Chaos, has fallen. In their darkest hour, no help will reach the beleaguered Dante and his warriors. Is this truly then the Time of Ending?
About the Author
Guy Haley is the author of the Horus Heresy novel Pharos, the Primarchs novel Peturabo and two volumes in The Beast Arises series: Throneworld and The Beheading. He has also written many Warhammer 40,000 novels, including Dante, Valedor and the Imperial Battle Tanks novels Baneblade and Shadowsword. His enthusiasm for all things greenskin led him to pen the eponymous Warhammer fantasy novel Skarsnik, as well as the End Times novel The Rise of the Horned Rat. He has also written a number of novellas and short stories set in Warhammer's new Age of Sigmar setting. He lives in Yorkshire, England with his wife and son.