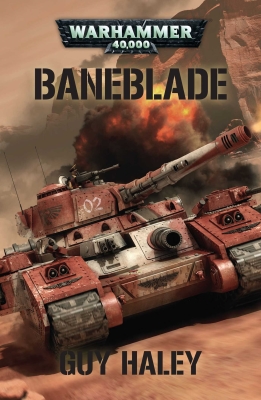 Baneblade (Imperial Battle Tanks #1) (Paperback)
Games Workshop, 9781784966119, 448pp.
Publication Date: October 17, 2017
* Individual store prices may vary.
Description
Fast-paced, hard-hitting military fiction featuring the Baneblade battle tank Mars Triumphant.

By the blessing of the Omnissiah was the Mars Triumphant born – from the forges of the Adeptus Mechanicus, the mighty Baneblade super-heavy battle tank comes to bring death and destruction to the foes of the Imperium. During a bitter war against the orks in the Kalidar system, Lieutenant Lo Bannick joins the crew of the venerable tank, and as part of the 7th Paragonian Tank Company he witnesses combat from within one of the Astra Militarum's mightiest war machines. But even as Bannick's own dark past threatens to undo him, the Mars Triumphant may have met its match in the form of a terrifying new foe.
About the Author
Guy Haley is the author of the Horus Heresy novel Pharos, the Primarchs novel Peturabo and two volumes in The Beast Arises series: Throneworld and The Beheading. He has also written many Warhammer 40,000 novels, including Dante, Valedor and the Imperial Battle Tanks novels Baneblade and Shadowsword. His enthusiasm for all things greenskin led him to pen the eponymous Warhammer fantasy novel Skarsnik, as well as the End Times novel The Rise of the Horned Rat. He has also written a number of novellas and short stories set in Warhammer's new Age of Sigmar setting. He lives in Yorkshire, England with his wife and son.