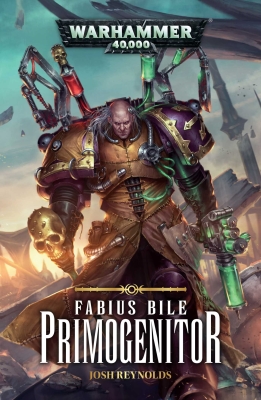 Primogenitor (Fabius Bile #1) (Paperback)
Games Workshop, 9781784966201, 352pp.
Publication Date: December 12, 2017
* Individual store prices may vary.
Description
Exiled into the depths of the Eye of Terror, former Emperor's Children Apothecary Fabius Bile is drawn back to the Imperium in search of a secret that could be the key to saving his misbegotten life.

He is known by many names - Clonelord, Manflayer, Primogenitor. He is the epitome of deceit and perversion, and feared by man and monster alike. Once the Chief Apothecary of the Emperor's Children, the madman known as Fabius Bile possesses a knowledge of genetic manipulation second to none. Now a renegade among renegades, he is loathed by those he once called brother, and even the most degraded of Chaos Space Marines fear his name. Exiled for his dark experiments, Bile has retreated deep into the Eye of Terror, leaving a trail of twisted abominations in his wake. But when a former student brings word of the ultimate prize for the taking, Bile is unable to resist being drawn once more into the cauldron of war. For in seizing this prize, Fabius Bile might yet discover the one secret his has been unable to unlock... the secret which will prevent his inevitable doom.
About the Author
Josh Reynolds is the author of the Horus Heresy Primarchs novel Fulgrim: The Palatine Phoenix, and two audio dramas featuring the Blackshields: The False War and The Red Fief. His Warhammer 40,000 work includes Lukas the Trickster and the Fabius Bile novels Primogenitor and Clonelord. He has written many stories set in the Age of Sigmar, including the novels Shadespire: The Mirrored City, Soul Wars, Eight Lamentations: Spear of Shadows, the Hallowed Knights novels Plague Garden and Black Pyramid, and Nagash: The Undying King. His tales of the Warhammer old world include The Return of Nagash and The Lord of the End Times, and two Gotrek & Felix novels. He lives and works in Sheffield.