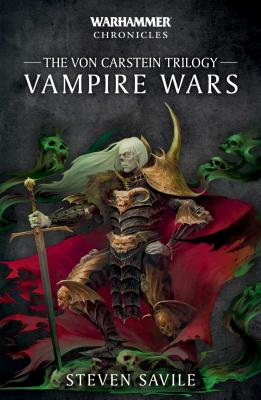 Vampire Wars (Warhammer Chronicles #3) (Paperback)
Games Workshop, 9781784966287, 800pp.
Publication Date: January 9, 2018
Other Editions of This Title:
Paperback (5/6/2008)
* Individual store prices may vary.
Description
A blood-drenched omnibus telling the story of the Von Carstein vampire counts, cruel undead rulers of the cursed land of Sylvania.

The Von Carsteins were the most infamous bloodline of vampires to ever stalk the Warhammer Old World. Their very names – Vlad, Konrad and Mannfred – were whispered in fear by the people of the Empire, conjuring up images of doom, death and destruction. Charting the vampire family's rise to power in the shadow-haunted lands of Sylvania and their century-spanning wars with the Empire, this omnibus edition collects all three of Steven Savile's classic Von Carstein novels – Inheritance, Dominion and Retribution – into one gore-drenched volume.
About the Author
Cult British author Steven Savile has written a wide variety of science fiction, fantasy and horror stories, as well as editing a number of anthologies in the UK and USA. He won the L. Ron Hubbard Writers of the Future award in 2002, was runner-up in the British Fantasy Award in 2000 and has been nominated three times for the Bram Stoker award. For Black Library, he is the author of the classic Vampire Wars trilogy, featuring the villainous Von Carstein family, and the standalone vampire novel Curse of the Necrarch. He currently lives and works in Stockholm, Sweden.