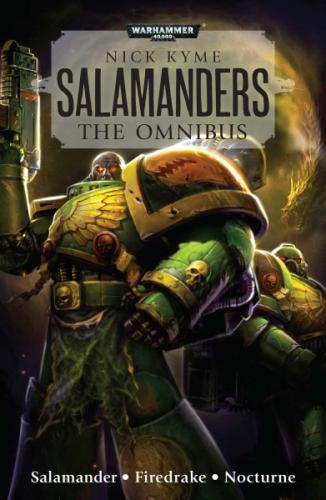 Salamanders (Paperback)
The Omnibus
Games Workshop, 9781784966904, 960pp.
Publication Date: May 15, 2018
* Individual store prices may vary.
Description
The Salamanders Chapter, fire-born sons of Vulkan, unite to face a threat to their very existence in this omnibus edition of the Tome of Fire trilogy.

The Salamanders have a long and noble history, standing proud among the First Founding Space Marine Chapters. Though their appearance can be terrifying, they are deeply honourable, and will go to any lengths to safeguard the Imperium and its billions of teeming citizens. After the death of their captain, Da'kir and Tsu'gan, battle-brothers and rivals, face enemies from within and without. As their paths diverge and they face trials that will test them to their very limits, their destinies draw them back together for one final confrontation... New edition of a great-value omnibus that contains all three novels in the Tome of Fire trilogy - Salamander, Firedrake and Nocturne - plus a host of additional short stories.
About the Author
Nick Kyme is the author of The Horus Heresy novels Deathfire and Vulkan Lives, the novellas Promethean Sun, Scorched Earth and Sons of the Forge, and the audio dramas Red-Marked and Censure. For Warhammer 40,000, Nick is best known for his popular Salamanders series of novels, but he has also written the Space Marine Battles novel Damnos and numerous short stories. He has also written fiction set in the Warhammer Old World, including the Empire novel Grimblades and the Time of Legends novel The Great Betrayal. He lives and works in Nottingham, and has a rabbit.