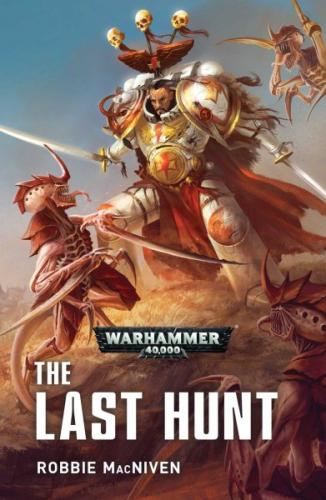 The Last Hunt (White Scars) (Paperback)
Games Workshop, 9781784966928, 432pp.
Publication Date: May 29, 2018
* Individual store prices may vary.
Description
When one of their recruiting worlds is threatened by a tyranid hive fleet, Joghaten Khan leads the White Scars to protect the planet from the rampaging aliens.

In the grim darkness of the 41st millennium, the Imperium is protected by Space Marines, superhuman warriors who battle tirelessly to protect humanity from aliens and the dark powers of Chaos. The White Scars are an old and noble Chapter, their apparent wildness and savagery hiding a cultured and spiritual nature. When one of their recruiting worlds comes under threat from a splinter fleet of Hive Fleet Leviathan, Joghaten Khan leads the Fourth Company to protect the planet from the rampaging tyranids. But all is not as clear as it seems. The White Scars find their efforts hampered by mysterious enemies, though they also receive an offer of aid from a most unexpected quarter. Without help, their mission looks next to impossible, but are their newfound allies to be trusted?
About the Author
Robbie MacNiven is a Highlands-born History graduate from the University of Edinburgh. He has written the Warhammer Age of Sigmar novella The Bone Desert, as well as the Warhammer 40,000 novels Blood of Iax, The Last Hunt, Carcharodons: Red Tithe, Carcharodons: Outer Dark and Legacy of Russ. His short stories include 'Redblade', 'A Song for the Lost' and 'Blood and Iron'. His hobbies include re-enacting, football and obsessing over Warhammer 40,000.