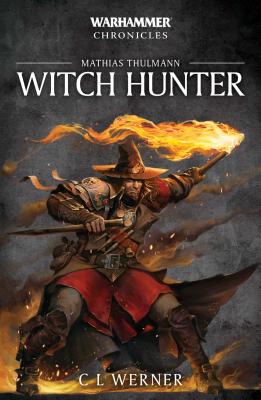 Witch Hunter
The Mathias Thulmann Trilogy (Warhammer Chronicles #7)
Paperback

* Individual store prices may vary.
Description
All three novels in C L Werner's classic Mathias Thulmann trilogy - Witch Hunter, Witch Finder and Witch Killer - collected together in one complete volume.

In the Old World, the dreaded witch hunters are feared above all others. Tyrannical individuals tasked with hunting out evil throughout the towns and villages, they use whatever means they deem necessary to root out corruption and destroy those foolish enough to ally themselves with the Dark Powers. Counted amongst the most zealous of the witch hunters is Mathias Thulmann, a ruthless individual whose exploits are legend, recounted across the Empire to terrify all recidivists, heretics and the servants of Chaos. This omnibus edition contains C L Werner's complete Mathias Thulmann trilogy, comprising the novels Witch Hunter, Witch Finder and Witch Killer and additional short stories.
Games Workshop, 9781784967086, 816pp.
Publication Date: June 12, 2018
About the Author
C L Werner has written over twenty novels and even more short stories set in the Warhammer fantasy world, including the End Times novel Deathblade, the Witch Hunter and Brunner the Bounty Hunter trilogies, the Thanquol & Boneripper series, and The Black Plague trilogy. He has also written a number of stories set in Warhammer's new Age of Sigmar setting, including the Realmgate Wars novel Lord of Undeath. His Warhammer 40,000 credits include the Space Marine Battles novel The Siege of Castellax, the audio drama Iron Devil and the novel Cult of the Warmason. He lives and works in the American south-west.