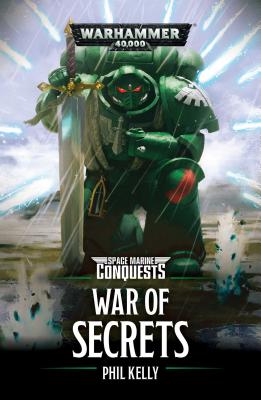 War of Secrets (Space Marine Conquests #3) (Paperback)
Games Workshop, 9781784967093, 416pp.
Publication Date: June 26, 2018
* Individual store prices may vary.
Description
In the shadow of the Great Rift, Primaris Marines fight alongside the Dark Angels against the t'au, but as whole worlds burn, a terrible psychic curse is unleashed.

Lieutenant Xedro Farren is a Primaris Marine, stronger and more adept than even the Space Marines his brotherhood has been sent to fight alongside. As he and his Primaris brethren support the Dark Angels in fighting a trauma-scarred force of t'au seemingly hellbent on destroying their own allies, their true quarry soon becomes clear: the shadowy instigator of a psychic curse that could plunge a string of Imperial planets into madness. As worlds burn in the fires of battle, an unthinkable pact is struck, and Lieutenant Farren begins to peel back layer after layer of deceit to discover an appalling truth. Can he hope to emerge from this web of lies without losing his honour – or come to that, his life?
About the Author
Phil Kelly is the author of the Space Marine Battles novel Blades of Damocles and the Warhammer 40,000 novellas Farsight and Blood Oath, as well as the Warhammer titles Sigmar's Blood and Dreadfleet. He has also written a number of short stories. He works as a background writer for Games Workshop, crafting the worlds of Warhammer and Warhammer 40,000. He lives in Nottingham.