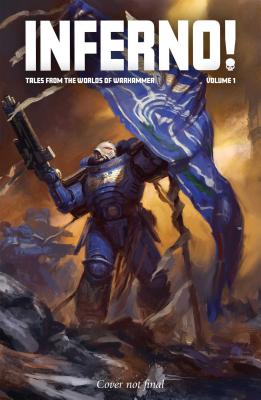 Inferno! #1 (Paperback)
Games Workshop, 9781784967338, 256pp.
Publication Date: October 9, 2018
* Individual store prices may vary.
Description
A new collection of short stories, penned by debut and established authors, showcasing the best works from across Black Library's many universes.

1. David Annandale - The Unsung War

2. Peter McLean - No Hero

3. Evan Dicken - The Path to Glory

4. Mike Brooks - A Common Ground

5. Steven Fischer - The Emperor's Wrath

6. Josh Reynolds - Waking the Dragon (previously unreleased Warhammer Fantasy story from the end times)

7. Nate Crowley - The Enemy of my Enemy

8. Josh Reynolds - How Vido Learned the Trick

9. Danie Ware - Mercy

10. Guy Haley - At the Sign of the Brazen Claw

The classic title returns as a new anthology of short stories, penned by debut and some of Black Library's fan-favourite authors. This collection showcases some of the best new works from across Games Workshop's many universes; from the grim darkness of the 41st millennium, to the brutal underhive of Necromunda, through to the sprawling realms of the Age of Sigmar, and the savage sports fields of Blood Bowl. Featuring stories from Josh Reynolds and a new fantasy from Guy Haley, this anthology is a brutal, gritty, and occasionally fun, dash through some of Black Library's newest short fiction.
About the Author
Josh Reynolds is the author of the Horus Heresy Primarchs novel Fulgrim: The Palatine Phoenix, and two audio dramas featuring the Blackshields: The False War and The Red Fief. His Warhammer 40,000 work includes Lukas the Trickster and the Fabius Bile novels Primogenitor and Clonelord. He has written many stories set in the Age of Sigmar, including the novels Shadespire: The Mirrored City, Soul Wars, Eight Lamentations: Spear of Shadows, the Hallowed Knights novels Plague Garden and Black Pyramid, and Nagash: The Undying King. His tales of the Warhammer old world include The Return of Nagash and The Lord of the End Times, and two Gotrek & Felix novels. He lives and works in Sheffield.

Guy Haley is the author of the Horus Heresy novels Titandeath, Wolfsbane and Pharos, the Primarchs novels Konrad Curze: The Night Haunter, Corax: Lord of Shadows, Perturabo: The Hammer of Olympia, and the Warhammer 40,000 novels Dark Imperium, Dark Imperium: Plague War, The Devastation of Baal, Dante, Baneblade, Shadowsword, Valedor and Death of Integrity. He has also written Throneworld and The Beheading for The Beast Arises series. His enthusiasm for all things greenskin has also led him to pen the eponymous Warhammer novel Skarsnik, as well as the End Times novel The Rise of the Horned Rat. He has also written stories set in the Age of Sigmar, included in War Storm, Ghal Maraz and Call of Archaon. He lives in Yorkshire with his wife and son.