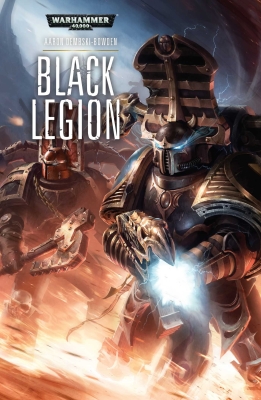 Black Legion
Paperback

* Individual store prices may vary.
Other Editions of This Title:
Hardcover (8/22/2017)
Description
Returning after his long self-imposed exile, Abaddon offers the disparate Chaos Space Marine warbands within the Eye of Terror a simple choice – join him or die.

Ezekyle Abaddon and his warlords strive to bind the newborn Black Legion together under threat of destruction. Now Khayon, Abaddon's most-trusted assassin, is tasked with ending the threat of Thagus Daravek, the self-proclaimed Lord of Hosts and a rival to the dark fate that Abaddon claims as his own. Fighting the vile whispers of the Dark Gods within his mind, Abaddon turns a fevered gaze back to the Imperium, where his true destiny awaits. Yet the Emperor's Champion and his Black Templars stand guard at the gates of Hell, and Sigismund has waited centuries to face Abaddon in battle...
Games Workshop, 9781784967536, 368pp.
Publication Date: July 10, 2018
About the Author
Aaron Dembski-Bowden is the author of The Horus Heresy novels The Master of Mankind, Betrayer and The First Heretic, as well as the novella Aurelian and the audio drama Butcher's Nails. For Warhammer 40,000, he wrote the popular Night Lords trilogy, the Space Marine Battles novel Armageddon and the novels The Emperor's Gift and Ragnar Blackmane. He is also the author of Talon of Horus and Black Legion, the first two novels in the millennia-spanning Black Legion series. He lives and works in Northern Ireland in the UK.