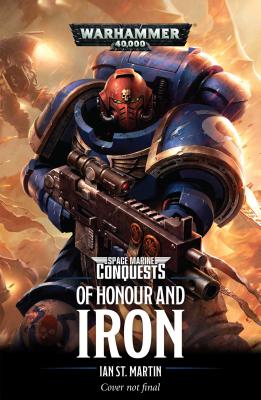 Of Honour and Iron (Space Marine Conquests) (Paperback)
Games Workshop, 9781784967680, 352pp.
Publication Date: September 4, 2018
* Individual store prices may vary.
Description
The age of the Dark Imperium has begun, and the human race is poised on the brink of ruin. In their darkest hour, the Emperor's servants have achieved the impossible: the resurrection of the Primarch Roboute Guilliman. Now Lord Commander of the Imperium of Man, Guilliman marshals his forces in a desperate effort to drive back the predations of Chaos: the Indomitus Crusade. Dispatched ahead of the bulk of Guilliman's war fleets, Chaplain Helios of the Ultramarines is entrusted by the risen primarch with a mission of vital importance. Will he achieve a crucial victory for Guilliman in time, or will a millennia-old obsession spell his doom? And just what manner of weapons will be needed to wage the war to save mankind?
About the Author
Ian St. Martin has written the Warhammer 40,000 novels Lucius: The Faultless Blade and Deathwatch: Kryptman's War, along with the short stories 'Adeptus Titanicus: Hunting Ground', 'City of Ruin' and 'In Wolves' Clothing' for Black Library. He lives and works in Washington DC, caring for his cat and reading anything within reach.
or
Not Currently Available for Direct Purchase